Hi'yall! :waving:
Well, I finished the two little girl's Booga Bags for Fiona and Laila.
They are ages 8 and 5…and I think, after felting, the Booga Bag turns out to be a nice size for little girls.
I made the XL Booga Bag for their mother, and posted photos of it the other day.
I had purchased only 2 skeins of NORO Kureyon, with the intentions of making the mini-booga bag. But, after casting on 24 stitches…it looked soooo small even before felting. So I made the "Normal" size, casting on about 36 st…and just knit in the round til I ran out of Kureyon. I had to purchase one skein of worsted weight wool for the I-cord straps for these bags…but, I like the contrasting color for the straps. The shade of purple is in both Kureyon colorways. I ended the I-cord at 5' for the little girl bags, instead of the recommended 6'.
I heard that both of the girls favor "pink"…so their mother and I discussed that I give BOTH BAGS to BOTH OF THEM…to interchange and share from day-to-day. "You get to take it (the pink bag) to church this Sunday, and I get to carry it to church next Sunday"…or some dialog like that! :happydance: Good thing: the oldest child is the most even tempered and diplomatic. The youngest daughter is a bit of a hot head! :teehee:
I am thinking about adding some beads-n-bobbles embellishments to the blue bag…to make it more alluring! The pink one can stay just like it is!
The frontal visual measurements of the pink bag are 7.5" x 8".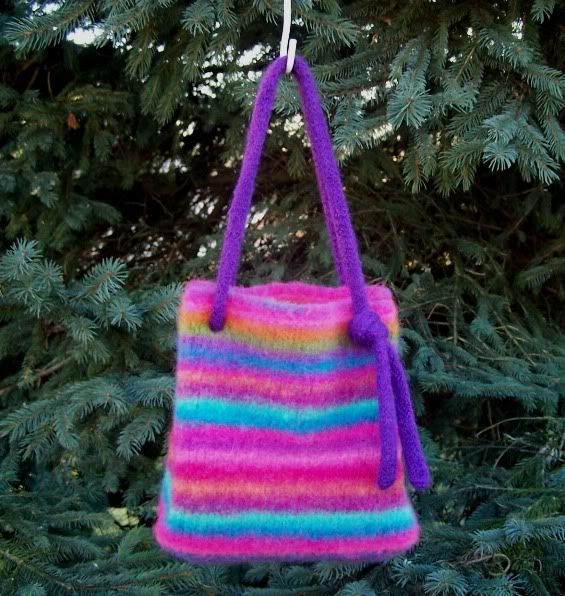 The frontal visual measurements of the blue bag are 8" x 8".
This is SIDE B.

I added the beads'n'bobbles to add to its appeal! The girls are going to fight over the pink bag, so these beads will help the blue bag out!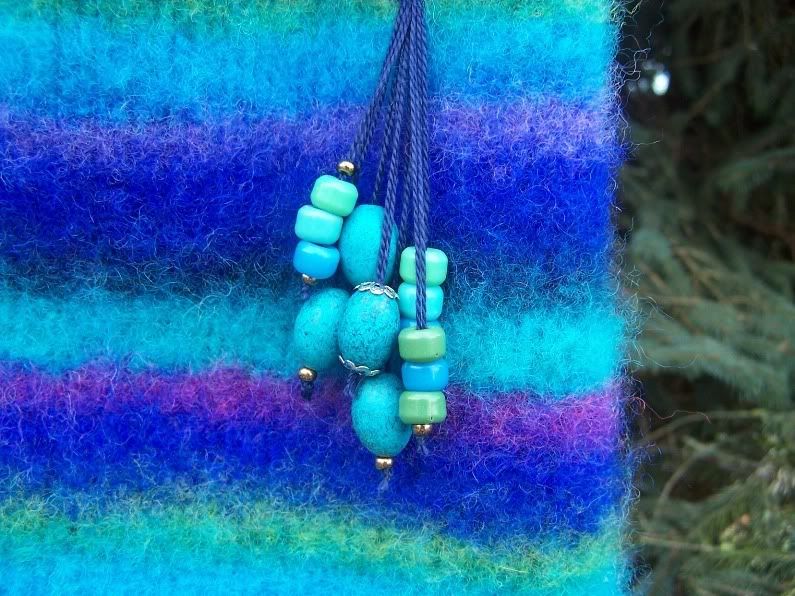 THIS IS SIDE A