I stumbled across a link posted by Shandeh showing a sock tutorial.
Originally Posted by Shandeh
Hello, new KHers! Silver's Sock Tutorial will help! http://www.cometosilver.com/socks/SockClass_Start.htm
Good luck with your socks!
And decided to check it out. So, I'm looking through the 'one sock on dpns', then I check out the 'Two Toe Up on circular'.
So, magic loop & sock virgin is doing two socks at one time using one circular needle!
hehehe… suffice it to say, I'm almost finished, and I found it quite easy (well, to be honest, the figure 8 cast on was a little on the 'medium hard' side), but overall, I think I can do socks!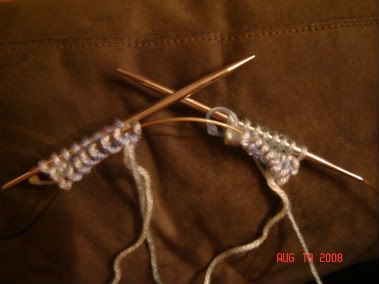 the figure 8 cast on is done! (whew)

omg, they actually look like toes! hehehe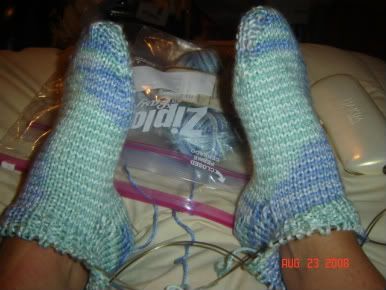 now, if I can just figure out her cast off method, I'll be finished!