I don't know if anybody remembers, but I got some fuzzy yarn from my mom for christmas that I didn't know what to do with. You all gave me some very good suggestions. I really wanted to knit something other than a sweater from it but after a few comments from my mom I realized that this is what she was hoping/expecting I would knit. Sigh.
So I started the "Howl & Cowl" sweater pattern from SnB - minus the dog sweater of course since I only have cats and I don't think they'd ever forgive me if I tried to dress them. :teehee:
I then got a bit adventurous and just used the pattern as a general reference, knitting it in the round instead, then picking up stitches to work on the sleeves. I want to put bell sleeves on it.
I have the body and about 3/4 of a sleeve done and I am lovingly calling it my "gorilla sweater". I know I'll never wear it…isn't it silly that I'm continuing?? I've considered knitting it up, modelling it once for my mom, then ripping it out and knitting something else with it (she'll never know, she lives far away and I see her twice a year). Since I'm still a beginner, I can look at it as a "learning experience". :teehee: Anyway, I found a good use for it already and thought I'd share: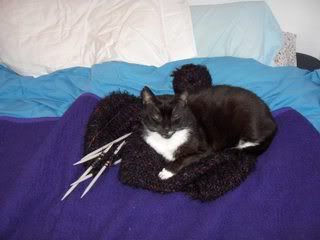 Is anybody else knitting something that they are highly underwhelmed about?