trying to get rid of some yarn that i no longer have use for…so i can get new yarn!! :happydance:
this is rowan cashsoft dk in the colorway 508, ballad blue, lot 11C5. i only have one skein but hey, maybe you only need one skein. it is a 50 g ball with 142 yards. incredibly soft 50% extra fine merino, 40% acrylic microfiber, and 10% cashmere. i bought it for $8.75, i'll sell it for $5 or perhaps swap.
this is lion brand yarn wool-ease in the color #301 white/multi, lot #8504. it is a pure white with a silvery, pearly thread throughout. i have two and about a quarter of a skein left of this. it is worsted weight and each full skein is about 2 1/2 oz (70 g) and 162 yards. it is 78% acrylic, 19% wool and 3% polyester making this very easy care, machine wash and dry. msrp is $2.99/skein and i will sell the lot for $5 or poss. swap.

this is patons grace yarn in the colorway 60705, cardinal, lot #235. i have five full skeins and one that i made a swatch from. each full skein is 50 g and 136 yards. it is 100% mercerized cotton and is dk weight. msrp is $4.99/skein and i will sell the whole lot for $15 or poss. swap.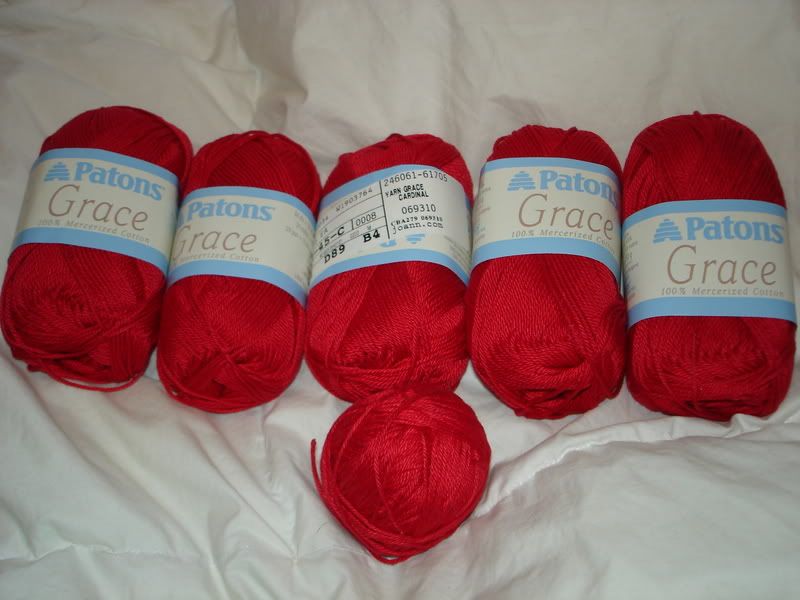 when it comes to swapping, it depends whatcha got. hehe, i am particularly interested in some sock yarn and plymouth encore. no particular colors. i will accept paypal only and buyer must pay shipping also. either email me at mdog182@hotmail.com or you can pm me on here. thanks for looking!!