Thanks to everyone's encouragement when I posted my first FO, I bring you the things I have finished since. And I'm rather impressed with myself for churning out another one of these scarves.
Gryffindor PoA Scarf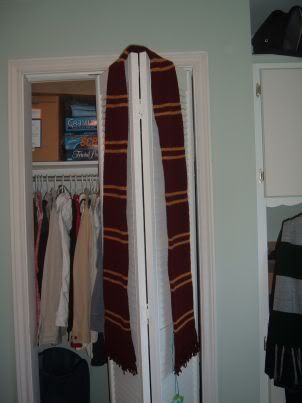 Yarn: TLC Essentials in Claret and Patons Classic Merino in Old Gold
Pattern: Lauren's.
Needles: 16" circular US7
Notes: I did the full 14 trapped bars and lengthened the MC blocks to 30 rounds rather than 27. It's super long and I love it. It's for someone taller than me, though, so maybe they won't trip on it while walking upstairs (like I do).
Slytherin Fingerless Quidditch Mitts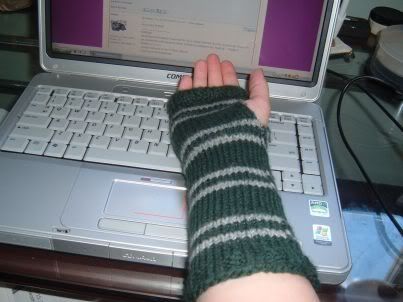 Yarn: Patons Classic Merino in Bottle Green and Grey Mix
Pattern: This one from xephyr-42.
Needles: US6 DPNs
Notes: I lengthened them by adding a repeat and changed the thumbholes a little by just knitting back and forth.
Fingerless Gloves
Yarn: Debbie Bliss Cashmerino Baby in #008
Pattern: This one.
Needles: US5 DPNs
Notes: I failed horribly at the thumb gusset on the first glove, so I abandoned the pattern for the second and used waste yarn to create a hole which worked perfectly. I also changed the way I increased so it was pretty much invisible. I absolutely love how these feel!