Purse: entrelac purse is a pattern by Plymouth yarns. I used various encore and cascade 220 yarns and then felted it.

Inside of Purse: came out pretty well just by luck.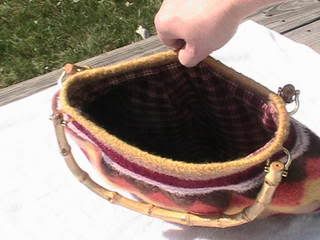 Baby Surprise Jacket: EZ's pattern using left over yarn from my entrelac purse. It fits my 18 month old grand-daughter. This pattern is a lot of fun to do. It amazes me that someone was able to think this up. EZ must have been a most amazing person.

Sampler Tabard: using 100% mercerized cotton. The pattern is from "A gathering of Lace". It was alot of fun to do and is an excellent starting point for those interested in lace. The color is actually a very bright royal type of blue.

Close-up of Sampler Tabard

Tie-dyed Boxes: from the spring 2007 issue of "Knitters" using Plymouth Bella Coleur yarn (cotton and rayon mix). A fairly boring project but excellent to take along while watching son's baseball games. The colors are the colors of ice cream sherbets.

Thanks for looking