I got a new toy at the weekend, it cost me £1…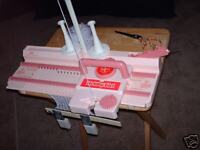 A Tomy hobby girl knitting machine!(not my picture but it's the same one) :mrgreen:
I've not had any real desire to have a real knitting machine but when my nephew said someone had brought this one to his Scout bring and buy sale and he was saving it for me, well I could resist it! It's a nice little, simple one after all. :yay:
The yarn that was in the box is terrible though (and I use a lot of acrylic so it must be bad!)…but it's alright for practising with.
Does anyone else have anything like this? What do you knit on them?