Here is my finished Misty Garden. I made it for my SIL for Christmas.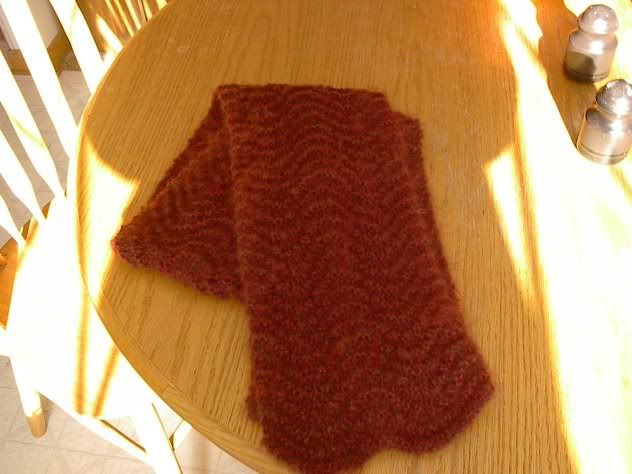 Robin
She is going to love it! What yarn did you use?
Oh Robin…IT'S BEAUTIFUL!!! What yarn (ditto Freyja)?!..it's lovely! I must do this scarf, too…don't u just
LOVE
this book?! Your SIL is so going to love this :cheering:
Love
fan and feather pattern. I xeroxed a copy from scarf style of this pattern too :shock: You chose some really pretty wool too. Good job
It's gorgeous! Love the color, love the pattern. I'm convinced that your SIL will not want to take it off… ever!
It's sooo pretty. Looks really soft too. She'll love it!
Sad to say the yarn is Red Heart Symphony. It is really pretty but SUCKS to knit with. The scarf is really soft. The color was Redwood. Thanks for all the compliments.
Robin
Actually, I have some of that Red Heart Symphony, and I rather like it, though I've not worked with it much.
It still looks absolutely lovely! That color is gorgeous.
that is a really pretty scarf! she will love it!
OH WOW!! thats beautiful! I am sure she will LOVE it!!!
looks squishy soft, nice work
Oooh, that looks so soft!
:happydance: ohhh pretty great job!!