Well I finally finished the scarf. It turned out ok I think.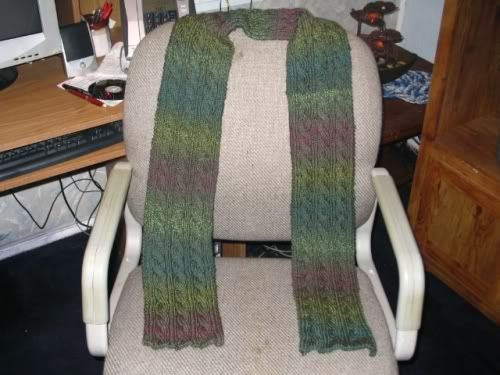 Yeah, it's really good looking. Pickle juice and all! lol
Ya done good, Mason.
Wow… that is more than just OK…It looks FABULOUS!! It looks really long too… how long is that… I remember you said you used caron shadows… how did you like it? Is it warm?.. this is definately on my to do list and I love seeing the finished ones… I've had another cable scarf OTN for about 1 1/2 years… (half done), but it is too hard to work on because I have to follow a pattern repeat of about 14 rows…
I think the Irish Hiking Scarf pattern is better… because I could memorize the 2 rows and work on it anywhere…Love the colors too…
So cool. It is gorgeous and done just in time for your runs through the wintery north.
Ummm…well,I think it is MORE than ok - it looks great! I like the soft color shifts - very, very nice!
Thanks folks. Yep, ready just in time for the cold weather that's coming. I hope to get the hat done soon.
The scarf is about six feet long, it took three skeins of Caron Simply Soft Shadows. It feels really good and should be quite warm.
I love it! I was wondering when you would show us how your doing on it. It turned out perfect!
It looks great! I LOVE those colors!
Ive stalled on mine…Im halfway through…
hooray, another guy demonstrating how the manly art of knitting is done.
Excellent job, nice even cables
I have never seen that yarn from Caron. do they sell it at wal-mart?
that is a nice scarf! i really like shading on that color. your stitches look very nice :yay:
Honestly, Mason…this is the most attractive IHS I have seen! Wow! You should be very proud! This IHS has logged a lot of road miles, too! A real Road Warrior!
Kudos to both of you! :woot:
WOW I love it. The colors of the yarn is just beautiful!!! i always get caron but i've never seen that color. i just love it. it shows off your wonderful stitchwork just beautifully!!
excellent job, Mason. can't wait to see more of your finished stuff.
That scarf is gorgeous :cheering:! Excellent work and the shades look fabulous
It looks fabulous! I love those colors, and your cables are perfect. What a great scarf. Which hat pattern are you using?
Love the color changes.The cables look really good