With the insanity of my DH spending a hard 8 months in 2005/2006 building a Dalek now at a good distance, we thought it was time for another 'Doctor Who' project!
At first we wanted to make the pink Romana costume from 'Destiny Of The Daleks'; we did all the research, sourced patterns, even bought a suitable wig, but try as we might, we never did find a suitable dusky pink fabric, so that idea hasn't gotten any further.
However, I then came up with the idea of us making the Female Clockwork Droid from 'The Girl In The Fireplace' instead; that sort of dress is right up my avenue, and that kind of fabric is always available. But, could DH make the mask? :??
He started off with a £2.50 moulded cardboard mask from Hobbycraft and a printout of the original Female mask, sized so it would fit my face-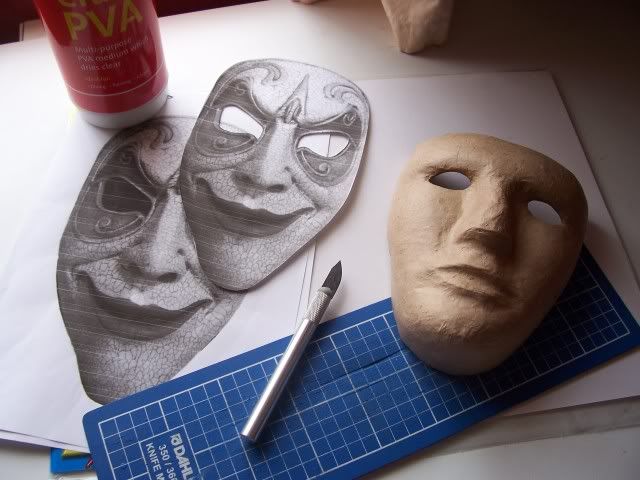 and he marked and cut the eye holes out, followed by creating a forehead area from thin card, lashings of PVA glue, and masking tape. The chin was cut off, lowered, and reattached by the same method-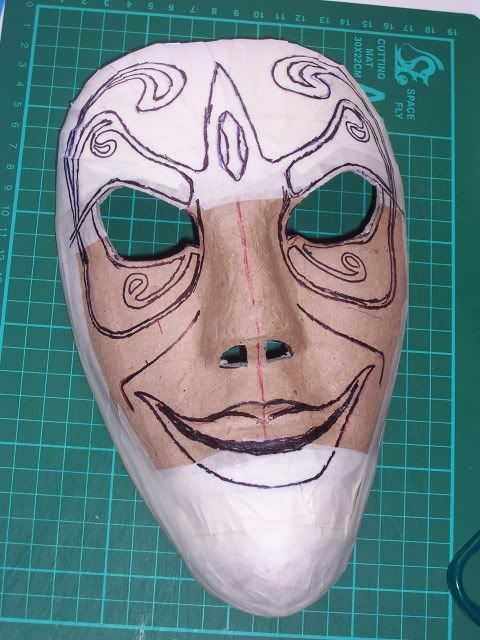 The whole thing was then plastered with multiple coats of PVC glue, to even it out and strengthen it up-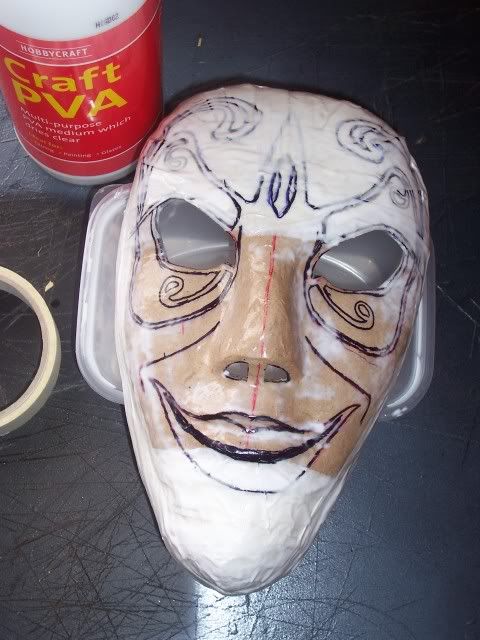 A basic coat of white paint and lots of marking out later, he stuck thin strips of kiddies 'Fab Foam' onto the surface, outlining the eyes etc, and again plastered the whole lot with much glue-
Many coats of glue and white paint later, he got to work with some Milliput, and sculpted on the lips, nose, cheeks and the decorative pointy bit on the forehead. (The red bit on the chin is blood- poor DH, and nasty craft knife!)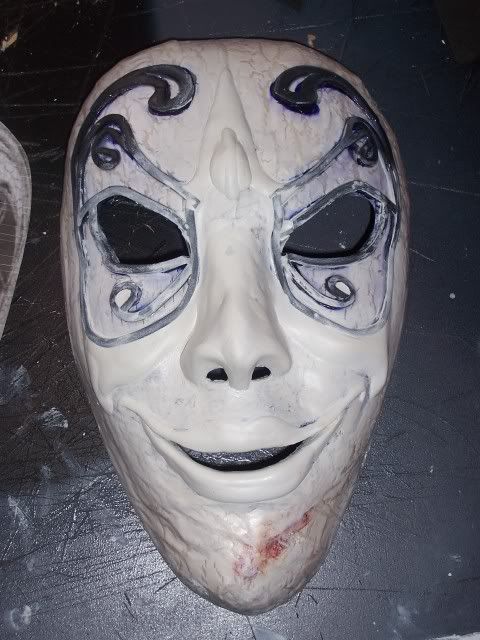 Even more coats of white paint later, he started the final painting-
Eventually, it was all painted, and then he set about drawing on the cracked porcelain glaze effect, by hand, over the whole mask! A couple of coats of lacquer later, it looked like this-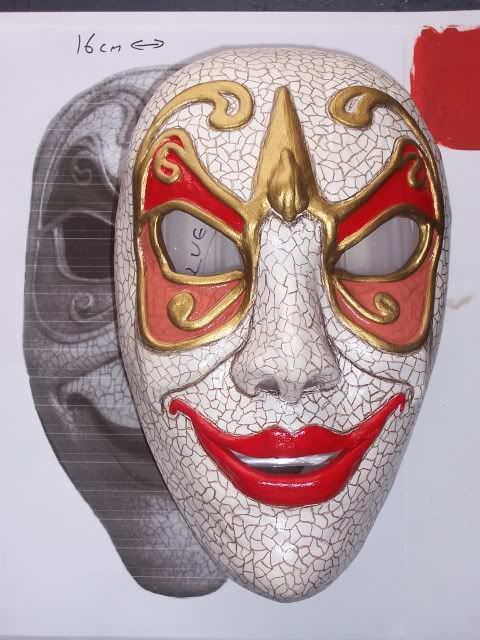 -which we're very pleased with. He says it's far from perfect, but it photographs well and I think it looks great. :cheering: Next step now is to black out the eyes and mouth, make it wearable with Velcro straps and padding inside etc, and then to seek out a suitable wig.
Oh yeah, and I've got to make the dress! :shock: