I've decided to try my hand on something I can actually see myself wear on an everyday occasion: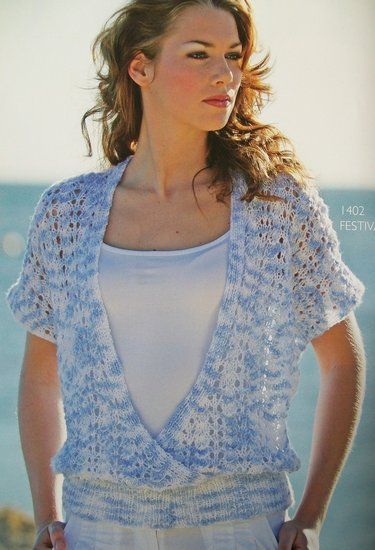 I'm not sure how to call this in English though. Is it a sweater? Is it a vest? I guess it is a sweater as you can't open it up and you might argue that it just has a deep cut neckline… Do you have a certain name for this type of garnment?
[COLOR="Blue"]EDIT: I'll go for: "shortsleeved lace sweater, low neckline, wrapped on front"[/COLOR]
I started with the yarn, determined to use up my leftovers. However, I do not have anything thick enough for #5 (pattern) needles, so I need to use 2 strands. I figured green/blue would pair beautiful with white, but I also tried grey as I cannot really see myself using that for anything… As I had 2 colours, I figured it would be a waste of time to knit them both on the same size of needles when I wasn't even sure of the gauge, so I also tried #6:

Surprisingly, I like the grey version better. And the gauge of the #6 needle is closer to the one required, though I did try a #7 to really get there but I did not like how the lace turned out so I quickly frogged it. I guess I'll have to do quite some calculating on this one
As a cast on, I used the long tail but as it starts with ribbing I (for the first time) also used the PURL long tailcast on. I'm quite happy with it, but I haven't managed to take a picture which really shows how it looks so you'll just have to take my word for it
I had some help with the increases after the rib, thanks again Salmonmac. :cheering: In the end, kfb was the best way to go.
I am knitting the backside and tried to put the lace pattern exactly in the middle to make it symmetrical, but this turned into a problem with the stitches on the side so I decided to just start the pattern on the left and break it of halfway on the right. The lace-pattern is quite easy and has 6 stitches. I am a bit troubled about the increases for the sleeves, as I need to increase on every 2nd needle and need to keep the lacepattern going without making a mess of the sides… I think that will be a challenge.
I am not sure yet about the size of the thing. For starters: I swear I knitted 9cm of ribbing (measured and counted), but when I remeasured the next day it turned out to be only 8?! As I feared: I'm not good at keeping the gauge NOR measuring :hair: I just do 1cm more of lace pattern for now, but I'd like to avoid this in the future, any ideas?! Apart from only measuring after letting the work "rest" a bit…
As for the width: no clue. I can measure it as 38cm and 44cm, really depending on how I stretch it and whether or not it draws back in (which differs). I'm just hoping for the best and relying on my gauge and stitch count :angelgrin: