On the needles: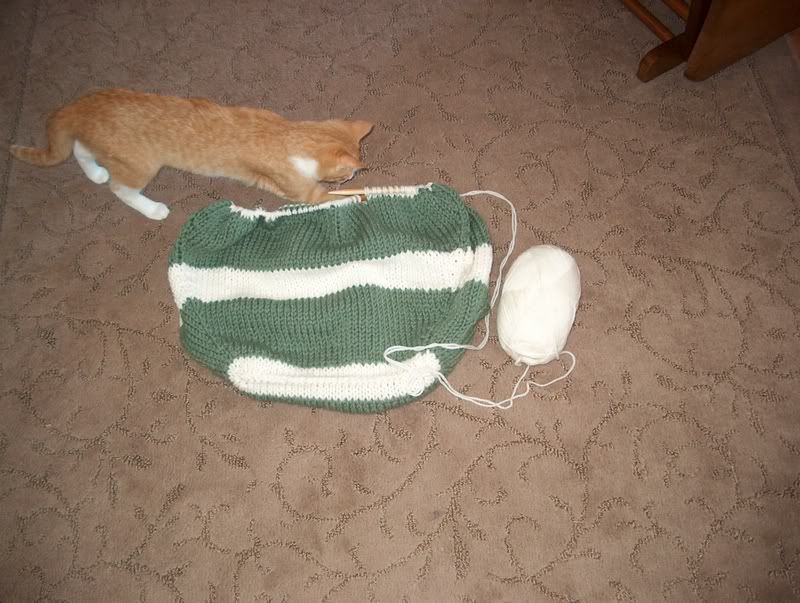 Open:
Stitch detail: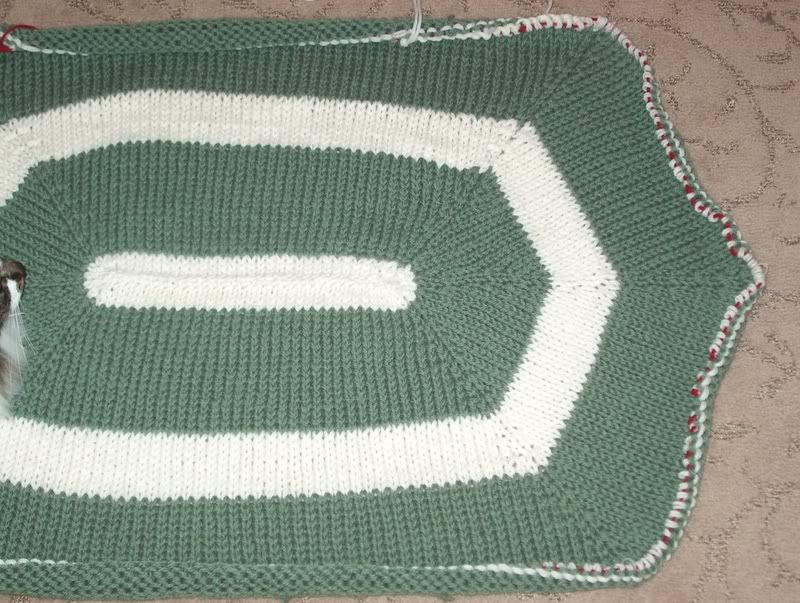 Great job!
The cats certainly seem to approve - they must be your quality control like mine: 'Mom, you better let me test drive that by taking a nap on it or playing with it to make sure it is good quality…'
LOL! They ALWAYS do this, not sure if it's QC or just wanna have their picture taken!
That is looking great. Love the cats.
The orange one is (of course) Punkin, our littlest one. The longhair is Tidbit, our three legged wonder! Runs faster than any four legged cat, ever!
Looking good! The cats are cute too!
How nice! I can't wait to see it felted! At some point I'd like to make a rug, too.
Way cool!! I think a felted rug will be awesome!!
I'm positive that it will turn out okay but apprehensive, too. It's fairly large and not sure if I added enough to the long sides but we'll see. It's done with double stranding, so it will be thick.
From past experiences, the fibers at the color changes usually aren't very pronounced so I want to add some embroidery or duplicate stitching in a pink and may use some darker green as well. It will be for my cold tootsies in the morning by the bedside. Any suggestions on the embroidery are welcome. Mary
It sounds awesome Mary! I can't wait to see the finished product!!
What a neat idea…I never thought of felting a rug…I love the colors and the cats…Can't wait to see it finished :happydance: Great job!!
Looks good! I have been wanting to try a rug. What pattern are you using and what yarn?
Staci
I would love to make a rug like that, so I Would also be interested in where you got the pattern and what yarn you used.What is the actual dimentions of the rug and how much will it shrink when it is felted? Great job. If I ever knit one I will try and post a picture with my four cats on it.