The pattern is Loopy, although I'm using Silver's sock tute just as much as the pattern!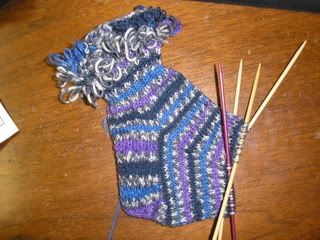 oooh, nice! lovely colours, what yarn are you using?
Fun loops! I even love the mis-matched dpns :mrgreen: Isn't it great feeling to have "turned the heel" and know you're on the last sprint to the toe? That was the best part of my first sock!
Those loops were a PIA, but yes, it's so nice to be on the home stretch!
As for the dpn's, I'm working from my grandma's stash that I inherited.
Oh, that is great! I bet they are super smooth, well loved and hold some good memories!
I love it!!! YAY SOCKS!!! LOVE the colors you chose!!
:happydance: It looks great!!
Fabulous sock and what a great design. I especially love the colour of your yarn x
I'm scared of socks, so I'm always very impressed…

And I also love the yarn.
I've been scared of socks for months! Then I did the ballet slippers from knitty, which I didn't even think of as being like socks till I got them done.
Now that I've done that, I figured I should tackle socks!
I admire you! I am still wading around in the shallow end of the socks pool! It is my 2008 Goal: Learn to knit socks! Thanks for sharing! I look forward to your FO post!