Yeah, I know. Everyone's done one of these, but what can I say? I like it.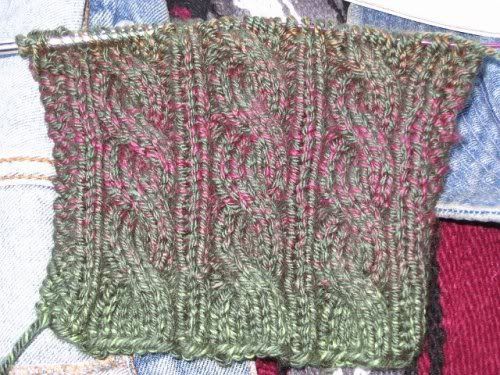 It looks great! I haven't done one yet, but I do plan to some day.
That looks great! Your cables are perfect and your stitches are so even. Wonderful job!!
What yarn are you using?
Very spiffy Mason… this is on my long, long list of things to knit.
Is that the Caron Shadows? I like the color change in it.
It does look like the caron shadows…I LOVE that yarn!
it was my first cabled project too and i was thrilled to do it. i really like the yarn! you said in another thread that it was a caron colorway; its great!:cheering:
That is very cool looking. I'm going to have to remember to use that yarn.
I haven't yet but it is on my list now that I have seen yours. Yours is beautiful. Is it really tricky? Would it work for first time cables? I think it would be a nice scarf for my guy.
Melissa
Yeah is my first cables project. Much easier than I had imagined.
And the yarn is Caron Shadows.
giggle
I went to A.C. Moore after work to see this Caron Shadows of which you speak. Soooooooft.
I really liked it!!! I can't wait to see how your colors come out so I can use that to better judge the color I want to get.
wow i should try it!! love the cables
You did? Cool. It is really nice. I was torn between the blue and the green but since it's called an Irish scarf I went with the green.
[COLOR="Indigo"][SIZE="4"][B]Mason,
Your cables look great! Isn't it a fun knit? I still have mine about a third of the way done…started too many other projects…LOL! I'll have to check out that Caron Shadows…is it really soft? Is it wool or acrylic?
Thanks,
Merry :)[/B][/SIZE][/COLOR]
I love it, and it's beautiful. Still one of my favorite knitting patterns, and you do it so well!
That beautiful!
:cheering::cheering: Good work so far, Mason.
Meybe, I'll do that scarf as my first cable project.
It's looking great! :cheering: Irish Hiking scarf was my first cable project too.
Mason, that looks really wonderful! Yet another project that will be going on my Holiday Knitting list
It's an acrylic but it's really soft.
Mason I love it!That yarn adds just enough color variation to it without making the detail of the cables disappear.