So my cousins are Pregnant and I was all excited to make the baby stuff.
But I got stuck. I wanted to knit one particular blanket and started to, but then wal mart stopped carrying that yarn. So I grabbed a bunch of a variegated yarn and just started knitting a big giant seed stitch blanket.
I was going to do seed stitch either way because I like how soft and squishy it knitted up. Problem is, the colours in the new yarn are beautiful I just HATE HATE HATE that tiger stripey effect you get from it. So the blanket looks like this except is pretty shades of greens and blues. I just found this as an example.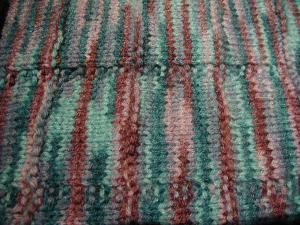 I love the colours, but feel the blanket is just too plain and ugly. I wouldn't knit it for my kid and I feel weird giving it to my cousin for hers if I think it's so ugly.
Her baby shower was yesterday (I purchased some baby care items for her) and after seeing how many blankets and hats and booties she got, I just figured I wouldn't bother and would frog back and use the yarn for something that showed off variegation more flatteringly.
But then my aunt, came up and was all "AWWW I was so excited to see your knits." So now I feel guilty for saying anything at all. :oops:
So now I have 3 options: Finish the half finished ugly blanket and give it anyways. Frog back and make the original blanket I was going to knit, since I was excited about it, or just not make any blankets at all and figure no one will notice once the baby comes.
What would you do?:verysad: