My first project was a scarf for my boyfriend's father (xmas present). It's a standard wool-acrylic blend worsted weight, on size 7 circular bamboo tip needles. I knit my little heart out for about 3 days straight, got about halfway into the 2nd ball of yarn (of 4) and I realized that it's not going to be long enough…!! I went back to the store and they were all sold out in my color!! So I got a few rolls of a heathered version of the same, but I'm not sure where I wanna take this… tan on the bottoms and heathered around the neck? ehhh… maybe stripes? Add some heather to the bottom and then some stripes of both around the neck?? I dunno!!! I'm considering just frogging the whole thing and starting over, either with waay fewer CO stitches (I did 100 just to be safe, I'll probably go with 80 or so if I redo). Or, I could just go at it with straight needles and NOT make it double thick and thus use up the yarn half as fast. But I really like the stockinette look but I do NOT want it to curl if I knit flat. =T
So… not quite knowing what to do, I went back to the yarn shop (even though I had just spent about 100 bucks on knitpicks oh BOY is this going to be "a habit" for me!) and got myself another pair of needles and started other projects.
Here is my first finished product! A hat:
I used knit picks "dune twist" and "fern" and did these on 16" size 7 circular bamboo tip needles and a set of size 5 DPNs for the top.
This was the second hat I started, though I finished it before the one above. Well, I sooorta finished it first, but the top was too bunched up so after I finished this one, I went back and redid the green top to the one above. Did this one in a worsted wool-acrylic blend in grey and green, size 8 circular metal tip needles and size 7 DPNs for the top.
Both these hats are for the bf (xmas gifts)
And here my first row of cables! I'm making a scarf on size 4 straight needles with "ultra light alpaca" in this awesome color green that my cheap camera can't capture (woah w-aliteration!)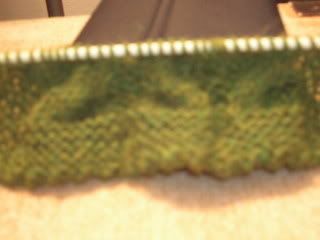 Here's a closeup if that helps.
This one will PROBLY be an xmas gift for the bf's mom.