I am considerably new to knitting I started when I was about nine but lost interest recently I forced myself back into it and now I cant get enough My hope is to make myself something and not give it away to friends who compliment me on my work lol. I tend to not follow patterns as they are hard for me to understand but I am getting there. I used to crochet things only but found I needed to try knitting again and I love it.
These are my first toys I made.
I made the snakes in a few evenings while watching the telly. My boyfriend helped me stuff them and shape them so they resembled snakes. they eyes are a bit wonky but I think that makes them cuter. I sent them to a ferret sanctuary to entertain the ferrets. I found as soon as I had sewn them up I didn`t want to part with them but the ferrets needed them more than me.


and a side view.
[/img]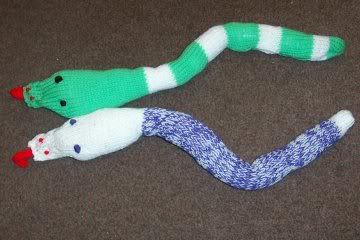 and here is Wiffle I sold him on ebay as a doorstop. I used a fluffy black and white eyelash yarn and made a hat. I then snaffled a piece of wood from my fellas Dad and stuffed round it. I added eyes and a nose and cut down the hair on his face so you could see his features. He now lives with a cat keeping it company somewhere in the south of england.