The first few are all ones using Paton's Merino in Forest, I love this stuff but it pills like crazy!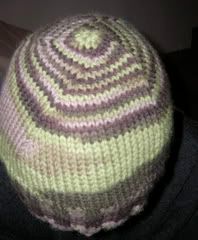 Here's a hat, knit in the round on sz 7 bamboo 16" circs, 2x2 rib for about 3 inches and then done in stockinette with a watchcap decrease.

A pair of gauntlets, the story of the mismatched pair is a few posts below in my big response.

Other side.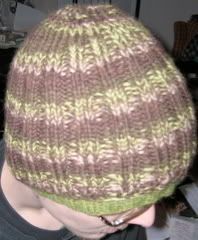 I recently finished this one for my bf, it's knit 2 strands together, using the Paton's Forest along with the same brown that was used in the gauntlet on the right above. Peaking out beneath that hat is a solid green hat similar to the first one shown, used sometimes as a layering piece or alone as a light knit hat.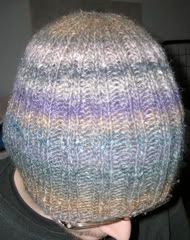 This and the hat below are knit using Noro. A friend asked for a hat and asked that they have "colors of the earth." I'm going to give him the choice and whichever he doesn't want, I or my bf will happily wear. =]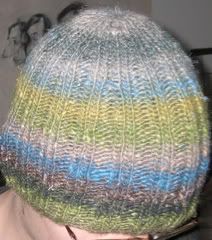 They're actually not as bright as they appear in these pictures. The flash made the colors a lot richer and more saturated; they're a bit more muted and grey in indoor light.

This one went to my bf's dad as a Christmas gift.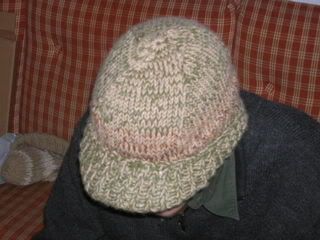 He wears this newsboy watchcap ALL the time, it's his go-to hat and he's gotten a few comments from coworkers. Makes me happy. =]

This one's also gotten lots of wear, this and the one above were the first ones I gave him. Also gotten a few "nice hat!"s from coworkers.

This one doesn't really get worn much, it's kinda small. It uses prettymuch the same yarns as the brimmed cap above but is single stranded instead of 2tog. I might ask for it back and frog it to knit it into a new hat.

And here's my cat posing while I take hat pictures.