Oops! Sorry for the gigantic pictures! Next time, I'll just post the thumbnails!
The one on the right is Meema's Marsupial bag from SNB. I didn't do the coinpurse so I had lots of yarn left over. The bag on the left is a similar bag I just made up using the remaining yarn. They look a bit small in the picture, but the one on the right is pretty big. I also made this for my MIL in light grey/pink, but didn't get a picture first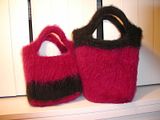 did you have a pattern for this or did you just wing it?
My first felted bag is drying but it is so not big enough for my knitting so now I am looking for something bigger.
I want to make mine large enough for knitting too…hence all the pockets. How large (finished size) would be recommended???
Cute bags!!!
Jessica…is that a beardie?? I have 3! I love them
I made a few bags based on the "Vintage Bubble Bag" from the book Pursenalities. most are 220 with Kureyon. some have WOTA in place of the 220.
I made a few felted bags:
Niiiiiiice! BTW, on twisted handles, what do you do??? Make an I-cord and twist them around???
On mine I twisted it before felting, but from experience I can tell you to twist it tightly.
hehe I think I twisted mine too tightly and sections felted together:doh:
Just saw this on the Knitting Daily email. I think it's from a new book called Felt Frenzy.
I love the "mod" pattern. I think I'll try to do something like that!
That bag is cute. I just got a Amanda's Squatty Sidekick bag from my swap partner. It is not a large bag, but everything that was in my regular purse fit in it.
I think Interweave Press also has out a special addition Felting mag, right now, maybe the email came earlier this week.
What's that bag look like??? Pic or link please!
This is mine:
[CENTER][CENTER][FONT=Times New Roman][COLOR=#660033][B]My Constant Companion[/B][/COLOR][/FONT][/CENTER]
[CENTER][B][FONT=Times New Roman]Pattern by Janet Scanlon as printed in [I]Knitter's Stash[/I] Edited by Barbara Albright[/FONT][/B][/CENTER][/CENTER]