Think I might have made a mistake with the shoulder shaping of the sweater I'm making.
The pattern says:
Bind off 9 sts at beg of next row and rem 8 sts at beg of foll alt row.
This has left me with a kind of 'step' along the shoulder seam (see picture). Is this right?? Or am I meant to pick up the the 8 bound off sts as part of the neckline??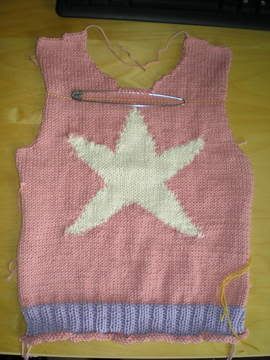 Neckband instructions are:
Join right shoulder seam. With RS facing, pick up and knit 19 sts down left front neck, k across 10 sts at centre front, pick up and knit 19 sts down right front neck the knit across 26 sts at centre back.
I'm confused as when I count the number of stitches I can see to pick up it seems more like 11 than 19!!
Grateful as ever for any guidance - please also excuse the dodgy intarsia - this is only the 3rd thing I've ever knitted but I like a challenge!!
thanks
emmab
x
PS also ignore the yellow yarn - I put in a lifeline to avoid frogging the star!!