I have a couple things up for sale so I can purchase new yarn. I do try to keep my prices relatively low, and I only use high quality yarn.
Here are just a FEW of the things that I make, but many of them are on my website, www.sarastitched.blogspot.com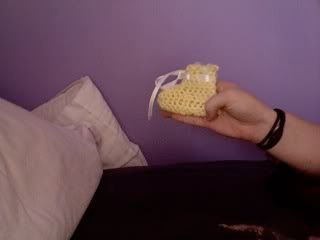 Baby Booties. Hand crocheted, I have many pairs for sale. I do make custom pairs as well. I use high quality soft baby yarn for these. I'd like $10 a pair for these, but I am willing to work out a discount for people buying multiple pairs.
Infant/Child Hats. These are made of some extra yarn I have, and are very adorable. The stitching is straight and even, and they are well made. I'm not sure what I'd like for these, but I will take offers into consideration.
Adult Hats. This is a pre-made one I have for sale. It is very pretty and would be perfect to wear this fall. I will also take offers on this one.
Please visit my website for all my other products for sale. I'd appreciate any feedback as well. Thanks!