I was so tired of my DPNs being held together with rubber bands labeled with post-it notes so I would know what size they are. My LYS sells rull-up DPN cases, but they start around $25. So, I whipped out my sewing machine, grabbed some scrap fabric I had laying around and came up with this: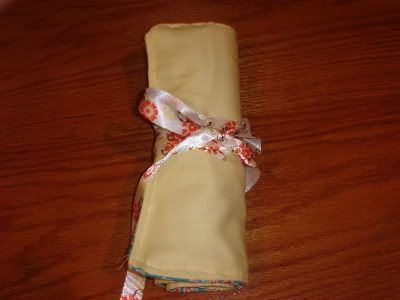 Here it is rolled up.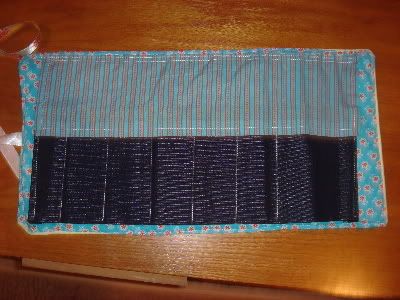 Opened up.

Lift the flap and…ta da! All my DPNs in their nice, organized little pockets. No more single needle flying out of the bunch and rolling under a piece of furniture. No more snapping myself with rubberbands trying to put them away. No more guesswork, trying to figure out what size they are. There's even a larger pocket where I could store a gauge ruler or some stitch markers. (I realized once I had stitched the entire thing together that I sewed my needle pocket on crooked :wall:)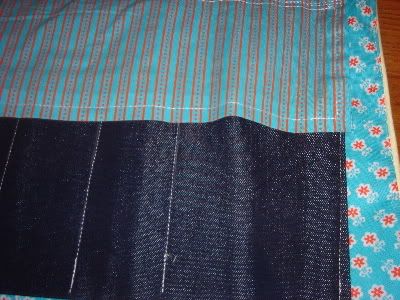 Here is a close-up of the fabric I used.
These are really simply to make. All you do is make the pocket for your needles (preferably out of a denim or heavy upholstery fabric so that your needle points won't poke holes in the fabric), sew it and the little flap to the right side of your inner fabric. Then sew the piece right sides together, wrong side out leaving the side where you will attach your ribbon open. Turn right-side out, iron, fold a good length of ribbon in half with the right sides facing together and pin in the center of the open side. Press the seams in and topstitch the entire piece.