Finally I'm making myself something! This is the front (or the back) of a sleeved poncho.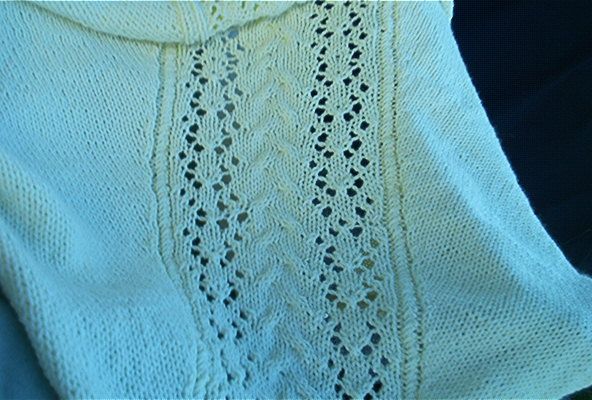 :cheering: :cheering: It's beautiful!!!
Very Pretty!!!
What pattern are you using?
This is a kit from the catalog Mary Maxim.
Wow…that is pretty!
What a great combo of lace and cables! :cheering:
That pattern is so pretty and the color
Beautiful!

Looks great!
That is soooo pretty!! I love the color!
Oh wow, that's a beautiful lace pattern & lovely colour!
Thanks, the color is really nice I took the picture outside and it looks more blueish. I'll have my Hubby take a picture when it's all completed with me wearing it.
I'm so glad I have this knitting forum, it's a nice break from the trying to concieve websites.
The pattern indicates the center panel is worked over 34 stitches. I'm at the very beginning of the pattern and it says to work 34 stitches of the pattern. Well, that's not the entire pattern, it doesn't look like at any time I'll increase enough to get to work all of the stitches of the center panel, and when you count it looks like there will be 38 stitches for the center panel.
I don't see in the pattern where they increase enough to incorporate the entire panel and the picture doesn't look like you should start less and increase.
I've re-worked 4 times now and I still come out the same.
Did you run into this?
That is really pretty-lovely lace and beautiful color
That is going to be very pretty!! Can't wait to see it finished :happydance:
[CENTER][B]Oh my gosh, that is so pretty! [/B]
[B] Great work[/B]
[/CENTER]