Here is the new baby sweater I designed and knit. I just finished it last night. I started with the idea of making a sweater with a cable around the body and wanting to do it in one piece with a yoke. I picked out this cable from one of the Harmony stitch guides. It turns out that a cable wants to curl some so I tired to remedy that a bit by adding a couple of rows of crochet at the bottom.
I decided to add some more bobbles to the yoke and did some multicolor corrugated ribbing at cuffs and neck. I tried not to go too far with embellishments. :ick: But I can always think of one more thing to do. :lol:
I didn't have any buttons that would go, and just to find a Wal-Mart I have to travel 35 miles, much of anything else is 75 miles away. :figureditout: So I got the idea to add crocheted buttons to match the bobbles. I think it works.
The gray is really a bit darker and slightly heathered, the blue is a bit more teal and darker, the orange is very bright, but a little darker than it looks. Yarn is acrylic, Patons Astra, a sport weight yarn.
I think the hippie in me shows a little here.
What do you think? The sweater is about a 6 month size.
Here is the back.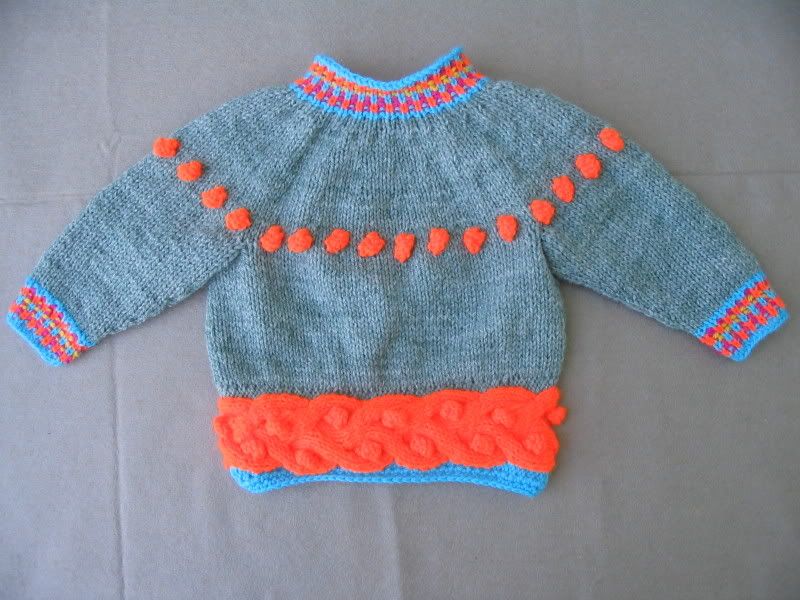 If anybody wants to see any details of how I attached the buttons or close ups of cable, or cuffs you can go here and look at more pictures.