Hi All!
I'm not a huge sock knitter - in fact, I've knitted one complete pair of socks so far using the Silver sock tutorial.
I have a somewhat severe case of "Second Sock Syndrome", but I've also discovered that socks are nice "in-between" projects if I'm not up to starting something major…or can't invest alot of money in yarn. Since I only started knitting last October I don't have much of a stash yet. :verysad:
ANYWAY. I was surfing the web last week and stumbled upon a huge sock yarn sale at one of my favorite online stores (don't get too excited, it's in Germany, where I am). We're talking $3.00 socks here. It was so cheap that I didn't even pay attention to how much yarn I was getting and suddenly my three pairs worth of yarn turned into enough for six pairs: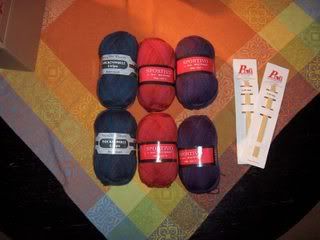 So…now I need some suggestions on sock patterns. I'm sort of a newbie so I'm not into anything TOO complicated, and I seem to be one of the few people who enjoy knitting socks on DPNs. :oops:
The yarn is 75% virgin wool and 25% polyamide, and I'm looking for patterns for US#1 / 2.5 mm needles. Patterns for men's socks would also be appreciated, since the blue yarn would make nice socks for DH too.
I'm on sock #1 (the screamingly bright pink/orange/red yarn), using the Jaywalker Socks pattern from Knitty and I'm enjoying it very much. (Probably because it's still the first sock…the second one will be hard to get excited about.)
If anybody has any good patterns bookmarked that you would like to share, I sure would appreciate it!