I knitted this scarf on size 15 needles with Red Heart yarn. It took about 4 days to finish!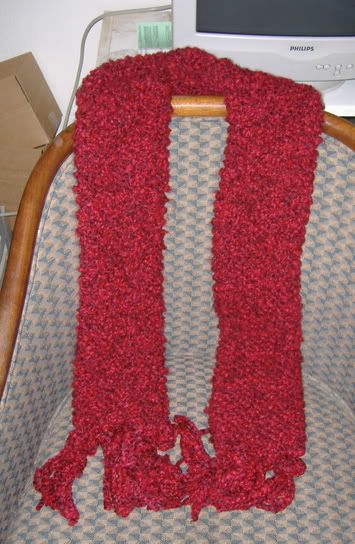 [/img]
OOooh, very nice! Who's the lucky recipient, or are you keeping this one for yourself?
That's quite nice…love, love the color :happydance: :cheering: :happydance: !!
That's very pretty! I love the color!
i agree with the others, the red is very nice!
:cheering: GREAT JOB!! :cheering:
:cheering: :cheering:
That's lovely! My first FO was a red scarf, too!
Very nice!
And congrats on completing your first project!!
Beautiful!!! What kind of Red Heart yarn is it? It looks really soft and fluffy. Love it!!
I live and knit in Louisville, too! :XX:
Very pretty!! :happydance: Congrats on your first FO!!!
Are you a Gilmore fan too??
that show!!
It's red heart light and lofty, I don't remember the of the color. This is a gift for my boyfriends mom.
Gilmore girls is my favorite show!
thanks everyone!
Re is my favorite color! Somebody's going to feel very special getiing this as a gift!
Congratulations! I like the redheart for a chunky scarf! Great look! and SOFT!
Thanks! I using the redheart light and lofty in white for my dads monitor cover too.
I made myself a green scarf out of Light'n'Lofty last year (crocheted, before I learned to knit). It's sooooo soft and cuddly.
I watch very little tv, but usually have about one show per year that I follow. This year, it's the Gilmore Girls. I discovered it quite by accident on an afternoon rerun. I was hooked within a few shows. I don't always remember to catch the weekly current ones, but they eventually show up on the afternoon reruns. Don't you just LOVE the scarves Rory and Loralei wear?
Yay first project!! Looks great.