Early this morning, I was rudely woken up by the dog barking and growling. In in sleepy haze I thought he needed to go to the bathroom outside, so I go downstairs and let him out of his kennel and he starts attacking this thing in the kitchen in the dark! I had no idea what it was so I jump up on the counter and starting hollering for my husband to come down here. He gets Calvin's head out the door and the dog drops the thing and it runs off. We all go back to bed, husband goes back to sleep but since it is getting light out I decide to get up for the day. I end up letting the dog out on the tie down and then I don't hear from him for a while. I go to see what he is doing and there is the thing dead on the patio and he is looking quite proud of himself!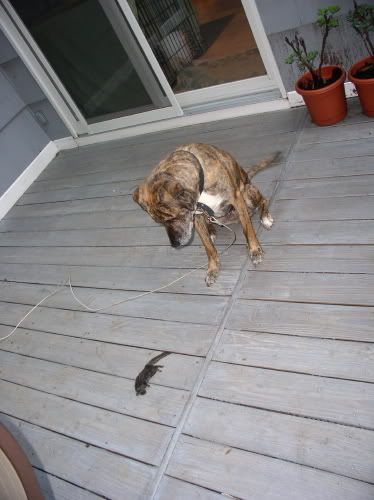 And here it is closeup.

To me it does not look like a mouse, its head is kinda like a squirrel and it has a flat furry tail, same type of fur that is all over his body. AND THIS WAS IN MY HOUSE!!??:shock::noway:
Anyone here have any idea what it is?