Hello everyone! I'm back to knitting!!!
Simple stripes and flowers…
I had trip to Russia this summer and I visited my sister's family in Ural.When I get in her kitchen I saw knitted potholders that I made for Julia 13-14 years ago.I was pleasantly suprised-it still in use!!! I made pictures of them for the memory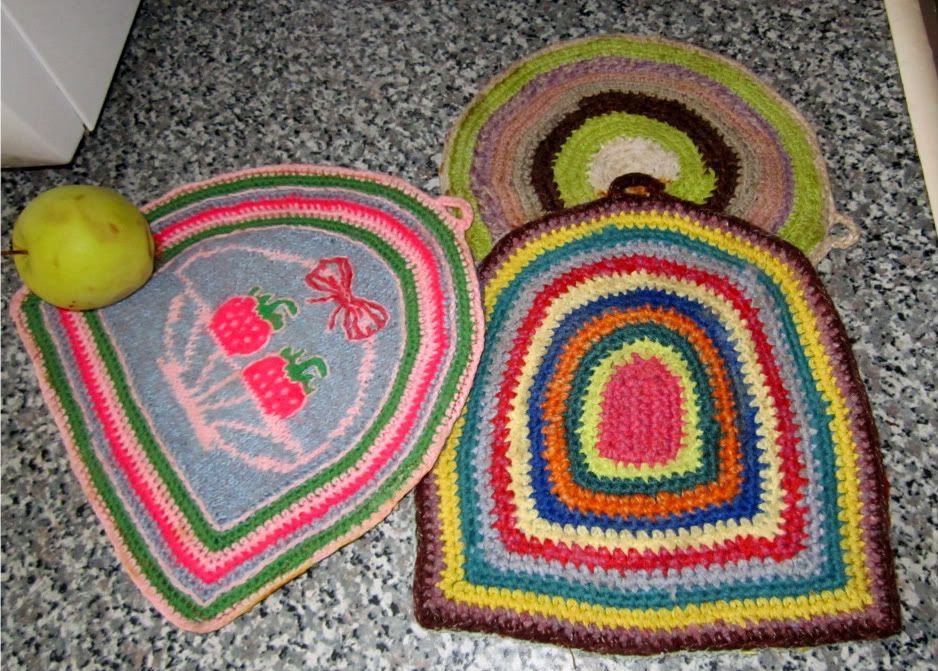 It remains me a time when my daughter was newborn baby and I wasn't working,so I have time for knitting and crocheting.I was making a geometric shaped potholders for myself and for everybody, who asked me about it.I guess, i made hundreds of them at that time.Some of them was knitted, some of them-chocheted, or combinated (knitting+ crocheting).I always like knitting more, then chrocheting.I don't have lot of patience for a hook…
Those old potholders on my sister's kitchen also remained me about another not finished work in my house… In 2004( when I was exspecting my last son) I decided to crochet the pillows for me and my relatives.I made 36 chrocheted motifs with flowers and…I lost desire and not finish it… How I already said-I never have patience with a hook…
When I came back to U.S. from Russia I found those 36 motifs in my old boxes and decided to make the blanket.But I really have no desire for crocheting right now,I'm going to knit the stripes around each motif.
Look what I already made.Look unusually,but I like it.
First of all I imaged a big motif like that ( I call it ''5-parts motif'').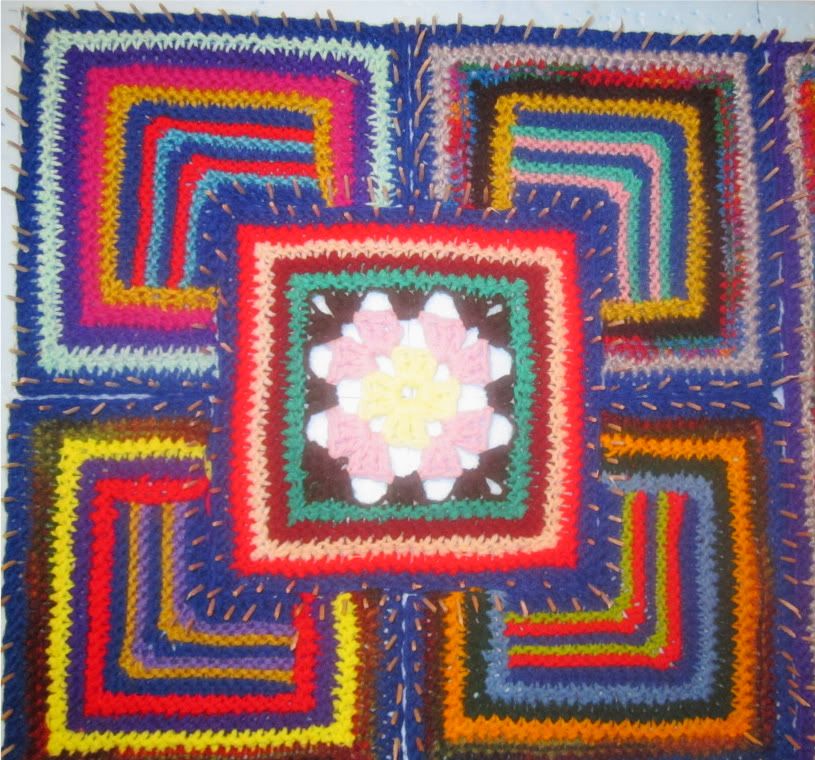 I knit such motif, then wet it,then put it on piece of foam and little bit stratch it and shape it with toothpicks.
I plan to make 6 of such ''5-parts motifs'' and put them on the middle of blanket. Then I will put 24 small motifs with flowers around it.This is the small motif: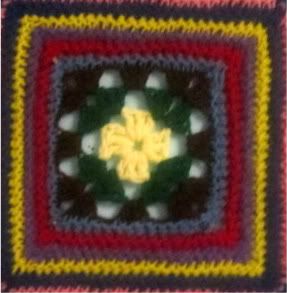 Then I want to chrochet the stripes around whole blanket.By this way it will be a good size blanket.
Every day more and more new motifs:
Whole blanket will take only 30 small motifs with flowers and It's 6 motifs left. I will use them for pillows.
The blanket will take only 30 motifs from 36.I will use 6 motifs(that left) for the pillows.There are my begginning imagination for pillow patterns
Pillow N 1(one side)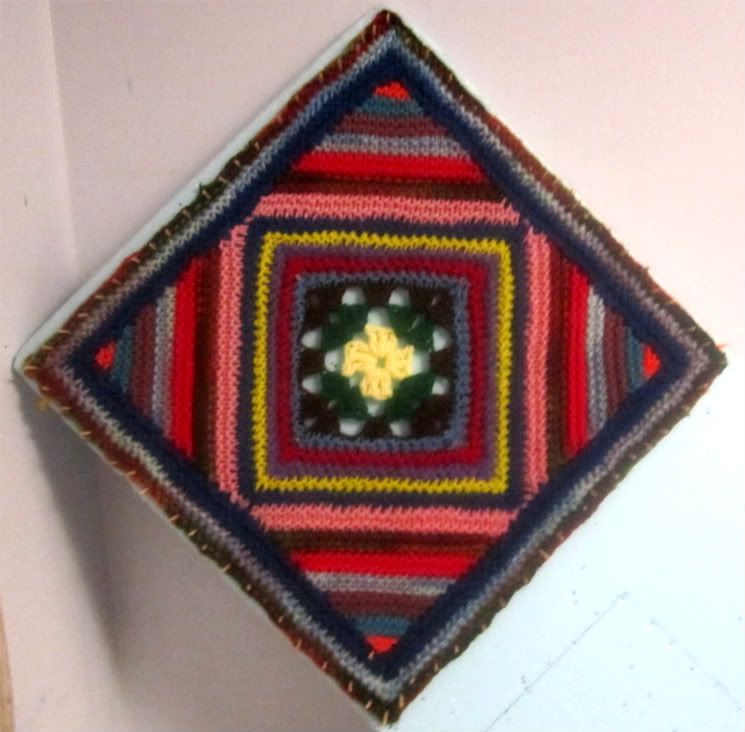 pillow N1(another side)
http://i1000.photobucket.com/albums/af126/leleka/304-1.jpg
Pillow N2(one side)
another side of second pillow in progress now. I will show it later.
There are possible motifs for pillow N3
I use a different methods of knitting(crocheting) for my projects.
1-Log cabin method
2-Partial tunician method of chrocheting(knitting).
Some people will say ''tunician knitting'', other people may say-''tunician crocheting'',because it's something between crocheting and knitting.
Why it's only ''partial''tunician knitting, and how I'm making it-I can explain in details, if someone interested.
Good luck to everybody with your knitting, or crocheting, or…BOTH!!!