Three nights ago I went to Borders, searching avidly for the new Charmed Knits book, with a bunch of patterns all relating to Harry Potter.
I found it, I flipped through it. I saw the invisibility shawl and instantly became thrilled… but I didn't buy it.
I've thought about it for three days, wondering why I didn't buy it. I went back to Borders this morning only to find that their stock had been wiped out. It's driving me absolutely insane, I have to make this shawl.
So, I was wondering if any of you have seen any free patterns online anywhere similar to the actual invisibility cloak, seen here: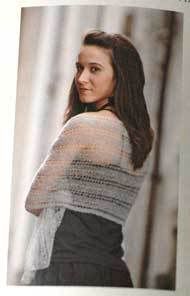 The picture isn't so great, true, but… if you have any similar patterns please, please, PLEASE let me know ASAP, I'm about to pull my hair out. Thank you.