…I just ordered a "learn to spin" kit. :shock:
:happydance: :happydance:
You can doooooo eeet!
Honestly I love my spindles and spinning on a wheel.
LOL, I've been saying for months, I can't get into spinning, I don't need another hobby…but it so intrigues me. I was never going to knit socks, either. :roflhard:
Never say never my dear. :roflhard:
I never thought that I would spin or knit either but now I keep finding new things that I must have going along with my hobbies. Wool carders, ball winders, swifts, drop spindles, not to mention all of the wool and yarn necessary! But it is all soooo worth it.
Where did you order it from?
I ordered from Common Threads Fiber Arts (on eBay…PayPal $$ burning a hole in my pocket
)
Julie, I borrowed a video tape from the library called Spinning Wool-Basics and Beyond. I'm desperately trying to squeeze in the time to watch it and really learn how to spin. I have a beautiful Ashford wheel but haven't found the time to really devote myself to learning. I really am going to try now! Good luck with your Kit. Let us know how it's going!
I got the kit today :happydance: …I wanted to finish two of my knitting UFOs before it got here…but now I'm all

enjoy!
i just started spinning on a drop spindle and i'm totally addicted.
:roflhard: :roflhard: That is awesome. You are going to love it. If you have problems ask us or seek out someone from a local guild. Sometimes being shown in person is the best way.
Enjoy!
LOL, Sandra, if I could find a spinning class less than an hour away I'd seriously consider it. But as it is, rwitten instructions & Internet videos will have to do…
I think I'll be using the park & daft method for about a year, until I get the hang of it…I honestly cannot foresee a time when I can let go of the spindle and it will continuously spin in the direction I want it to! :roflhard: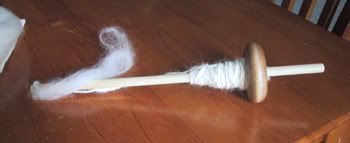 It looks great! Do not give up. It will take time. I was told to practice for at least 15 mins a day and eventually you will get it. I am still on park and draft with the spindles :doh: :roflhard:
Drafting on the wheel has been better for me but I am glad that I started out with the spindle. Right now I am working on some angora on a small spindle.
Not easy stuff to spin but sooooooooo soft :drooling: It makes me sweat everytime I spin it so I only get to spin a little at a time. ahhh well.
Enjoy
The spinning has me more :?? than the drafting, I must say. I watch the little videos where the chick's spindle keeps spinning (in the correct direction :rofling: ) on its own and I am mystified. Mine won't spin like that…but it's okay 'cause I'm parking… :roflhard:
Don't feel bad mine doesn't either :doh:
:roflhard: :roflhard:
But it is so satisfying when you have your own skein.
It looks great Julie… Isn't it fun. I never did get the hang of the spindle. I jumped quick to a wheel…but one day I am gonna master that little thing. Looks like you are catching on quick.
I'm still learning too. When I use the wheel, I pedal too fast, and the yarn gets overspun, because I'm still having trouble drafting well. When I run out of fiber, I run it back through, turning the wheel in the opposite direction to get out some of the twist.
When I use a drop spindle, the spindle swings around like crazy and doesn't spin right. I usually end up pre-drafting the fiber, spinning a little bit, then parking the spindle between my knees and pulling the spin through the fiber with my hands. It's slow, but the yarn is nicer that way.
So far, I've spun wool, silk, yak hair, and a merino/silk combination.
I still haven't tried plying, but I'll get there.
I finally got past park and drafting today- it's quite liberating! The only times I've dropped the spindle (with not-so-happy broken yarn) was when I didn't have much spun length coming from the spindle. It won't spin for very long with a short yarn and I wasn't paying attention to the spin :rollseyes: . So you might want to try it with more length on the spindle- I was suprised at how long it would spin on its own while I drafted (slowly). I even tried rolling up the thigh- that is a lot of fun! Now if I can just get the long draw down without getting lumpy yarn…