A few days ago, I put in an order for a swift at JoAnn Fabrics online. (I was so excited to be buying it 50% off!) Everything's fine, I'm excited…and then we get an email yesterday saying the swift is out of stock for the next few weeks, and they've cancelled our order. :wall:
It wasn't listed as out of stock when I bought it, and it still isn't. Who knows why?
Well, I decided that I couldn't wait a few more weeks and then have to pay even more for the thing, so my dad and I went off on a treasure hunt. We found a lazy susan turntable at Home Depot and an expandable drying rack at Bed, Bath, and Beyond; then we came home and my dad went to work. He chopped off parts of the drying rack, screwed things together, and voila! a lovely, $15 swift.
Here it is, with some KP sock yarn on it. The memories of my tangled first hank were still fresh in my mind when I began to wind, but the swift was fabulous, and I ended up with a nice, neat ball in about 3 minutes. (Compared to my first one, which took about an hour of untangling.)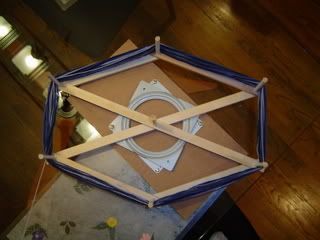 Hooray for my dad, and for Julie, whose year-and-a-half old post I got this idea from.