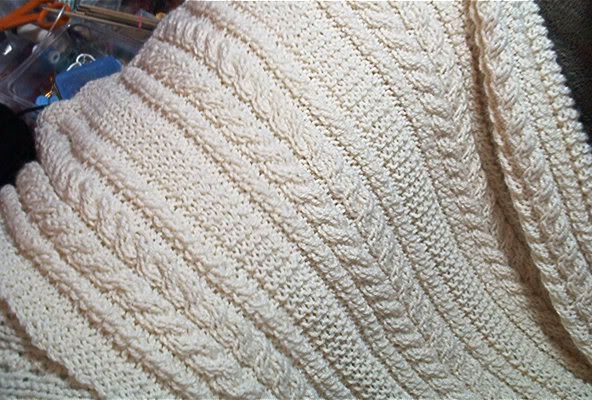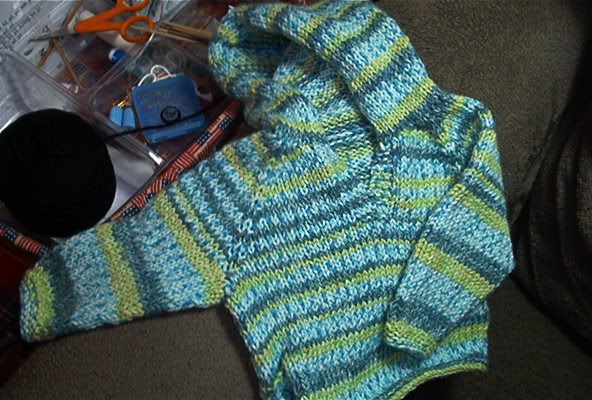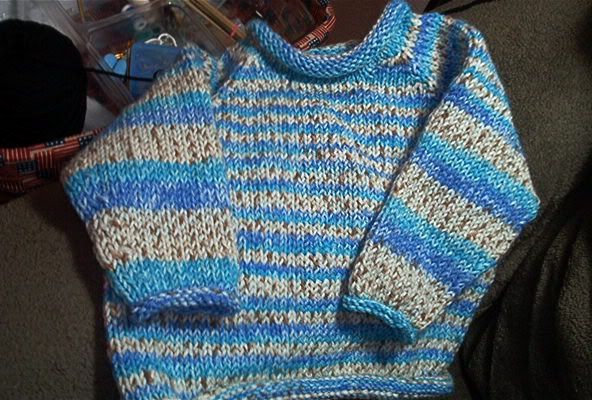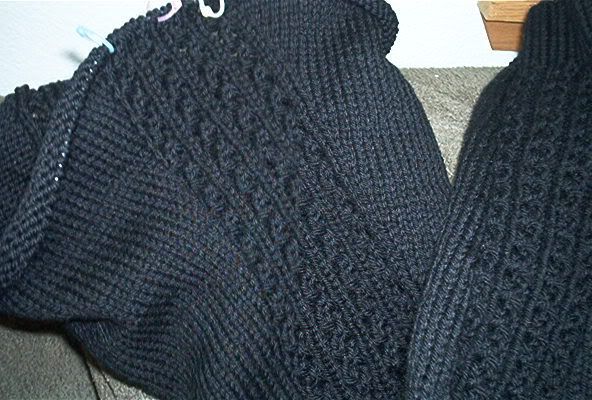 OK the first one is a laphan for my Mother in Law.
The two baby sweaters size six month and 18 month.
WIP is my shrug made with Cascade 220.
Oh my goodness! I am in awe of your talent and skill!! You rock, greeeat job :happydance:
hahaha got them up before you went to knit! yay.
And THANKS!!
Knit ON!
They look great. You've been busy.
Beautiful! That lapghan is gorgeous!
All are beautiful. Love the sweater colours.
Thanky thanky!
The cabled afghan was a free pattern I got from my LYS. Debbie Macomber, gave this Leisure Arts pattern at her book release party. (made with Plymouth Encore)
I forgot to mention that the sweaters are made with Plymouth Encore, patterns by Knitting Pure and Simple.
All I can say is, WOW! :woohoo:
Awesome job! I love those baby sweaters, your wip is looking great, and that lapghan is just beautiful!
These were my actually out loud words on seeing these. #1. WOW, WOW, WOW 2&3. Cute, cute! 4. Didn't say anything.
Further comments. #1. Wonderful cables. What a lot of work. Beautiful afghan. :cheering: #2&3 I love your yarn on both of these and they are really cute. I like roll top collars. Need to do one soon.:drool: #4. Nice job so far, I want to see the finished project.
Great work!
That is one marvelous job there! I especially love the lapghan :cheering:
As they say to stars and celebs…"I love your work!"
Hoodie is very cool and lapghan looks thick and ultra warm with beautiful cabling and design.
Beautiful work! That lapgan is absolutely gorgeous!!!
I love the green sweater! :yay: You are awesome!
On the shrug WIP, it was started on the sleeve. Right now I am working back and forth on the back. I will post a pick of that when it' s done!!!
Thanks again everyone! I love baby projects they knit up so fast!! Right now we are trying to get pregnant (no babies yet), so when our child finally gets here he/she will have a full fall/winter wardrobe!! :happydance:
whoa, you are dedicated! I know the attention you had to pay to that lapghan. All four projects are beautiful. :cheering:
Beautiful, beautiful knitting! I love the lapghan – it is absolutely breathtaking! And the baby sweaters are so cute – love the hoodie! Can't wait to see the finished shrug.