This is a blanket I knit for the baby. I used Bernat Baby Lash (one of my favorite fur yarns) and it knit up pretty quick. Here it is wrapped over baby when we came home from the hospital: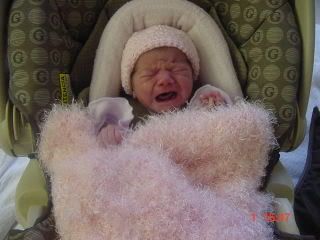 Here is a hat and poncho set that I knit for my dd's friend for her birthday. It looks real cute but I was in the hospital before the party and didn't get a chance to take a pic. Dh put the hat and poncho on dd, but when it's on straight, it's lovely:
Here is a sundress I made. One of my best friends wrote this pattern, only the dresses she makes has intarsia. I'm not ready to do major intarsia, so I just did a prototype of a plain dress in plain acrylic yarn. This is my 5yr old modeling the dress:
My first dabble in intarsia. I made this little rosary pouch. I've made sever with buttons, flaps and such…different types. It was a pattern that I made up myself:
I was totally into knitting ponchos. Here is one knit out of bernat baby lash yarn:
My big projects last year around Christmas, everyone wanted them!
My first project on dpns: