Made these for my boyfriend waaay back in like January or February? As you can see they're quite worn! I didn't get a chance to snap a photo until recently. He got a few comments at work about what a lucky guy he is :woot: so he gets more socks :knitting: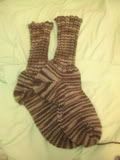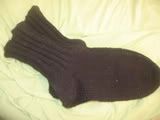 These were for friends of mine who just left on a cross country bicycling trip to Arizona! I started a thread "For Dear Friends I'll Never See Again" and these were the finished products. They each got a pair of black cotton socks and wool brown/green socks, 4 pairs total.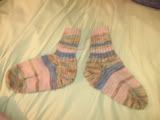 The previous socks have all been worsted weight, done two at a time toe up using the instructions from Silver's sock class. But I wanted a change of pace so I went to my LYS and picked up some scraps to mix and match. I believe these were koigu but I'm not positive. I used instructions I found somewhere and did these cuff down two at a time to try a heel flap instead of the short row heels I'd been doing before. It wasn't that bad, but my kitchnered toe was so loose that it got sloppy after one wear. Also it started pilling like crazy at the heel. Not that thrilled with the turnout but there'll be other socks!

Since my boyfriend had so patiently waited, wearing his cotton ankle socks all summer, I thought I'd cast on for some socks for him. I knit these in WoolEase, using the sock guide from Ann Budd's Getting Started Knitting Socks. It's a K3P1 rib, and I played around with a garter stitch rib for the leg instep. It's a liiitle short on him, but he still loves 'em.

This pair and the previous pair were sort of done simultaneously. Well, I did the first sock of the cream colored ones and ran out of yarn. So then I started the first sock for these blue/gray striped ones, and then went out and bought more WoolEase. I finished the second striped sock before finishing the second cream colored sock. xD But now he's got two pairs of wool socks, both of which have already been well worn! I think the striped ones have started felting at the bottom of the foot! He asked me the other day how to hand-wash socks, a good sign I think! Means he appreciates and wants to take care of his gifts, makes me very happy.

And last but not least, some socks for me!! I started this a week ago, finished sock 1 and just cast on for sock 2 last night. I can tell already that the pooling will be very different. I used Maizy in Iguana. Me likes! I don't know if you can tell but I used a pattern also found in Getting Started Knitting socks.

Oh, and somewhere in the midst of knitting those 4 pairs for my two friends who just left for AZ, I got sock-knitting-fever and needing something completely different to occupy my mind. So I knit this dishcloth. I got the pattern from a ball of Sugar N Cream, which is the kind of yarn I used. There's one mistake in the pattern, can barely see it but it makes me smile and think of the Persians and their rugs. I liked it so much I made another one in blue right afterwards. I don't think I got a picture of that one though.
That's all for now!!
I love socks!