I tend to knit a lot of scarves so I always have a bunch of knitting projects going that are never ending… I really needed some Instant Gratification though, so I whipped up these small projects.

[B]
Sackboy 2.0[/B]
I made a Sackboy for my son a few months ago. My SIL (who is a huge fan of the game) adored him so I made this little guy for her. It was love at first sight!
You can read my Ravelry notes on him HERE.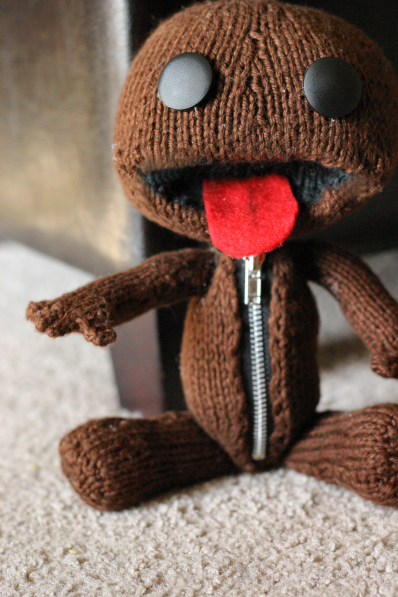 SIL, Lottie and her new Sackboy!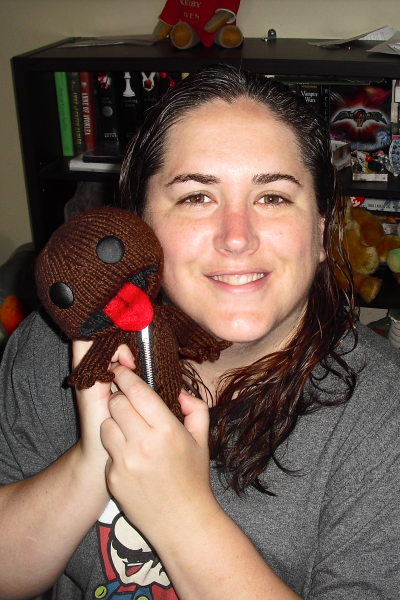 [B]Dishcloths[/B]
These were great. Learned how easy and satisfying mosaic knitting can be.
Left to right: Magic Stripe, checker/basketweave, mitered aquare and checkered diamonds.
[B]WIP's[/B]
chevron stripe scarf: Been working on this since June 2009! It's about half done but I ran out of black yarn so it's on hold for now. I keep dawdling with this one because I cut the yarn after each colour and weave in the ends. Carrying the yarn up the side just made the edge look all wonky.
Marijke
I started this one last August when I was couch bound in my third trimester. It's about half done or so too. The pattern is VERY long and detailed (28 rows with knits and purls on every row! Oy!) however so with my son toddling about it's hard to find time to sit down and knit it. I hate stopping mid repeat so I won't pick it up unless I know I have time to knit through a full repeat.
I also have an easy chevron like lace scarf I am working on, and a "Noro Stripe Scarf" using KnitPicks Chroma. I was nearly done that one but ran out of my black contrasting yarn. I don't have any pics of those ones yet!