[color=darkred][/color][color=darkred][/color][color=darkred][/color]
I knitted a cute cabled purse for my mom for Mother's Day. Lined it and everything!
Unfortunately it didn't turn out as well as I hoped… the handles didn't match each other perfectly for some reason. Also, my sewing skills suck so sewing the lining in… well, it ain't a pro job, that's for sure!
But my mom was required to love, seeing as how it was a gift from me.
Pics here (yarn used was Lamb's Pride bulky superwash) :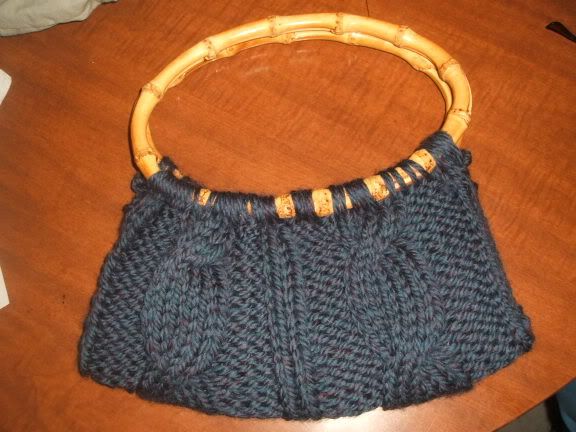 I also used the same yarn to (attempt to) make myself a beret. Unfortunately, I didn't make it big enough, so it looks more like a poorly fitting hat. Sigh… so it hit the frog pond this afternoon, and it will hopefully enjoy life as a hat for my toddler. Pic of the beret, may it rest in "make me look like a goofball" peace :
Somehow I didn't take a picture of it flat before I frogged it! So this crappy pic of me wearing it is all I have… no documentation of my first beautiful lines of decreases for a hat! Ah well… it was eager to hit the frogging pond.
Thanks for looking![/img]