Hi! :waving:
Had to make two emergency baby sweaters for an upcoming baby shower! The young woman's pregnancy just went by so fast (well, [I]for me[/I] it went by fast!) Her shower is scheduled for this weekend…and everyone expects to see some hand-knits girts from me!
The little blue pullover took just one day. We were enjoying our July wilderness week…so I was able to devote most of the day to it!
The blue jacket (knit in one piece) took longer. Garter stitch always takes a million stitches. Have made this jacket for two girl babies this past winter, too. It is one of my favorite patterns.
Had to wait til I got home to do the blue jacket seaming and buttons. Tried to find "Stash Buttons"…but, didn't have any 1/2" buttons that looked good. The button holes were the "knit two together, yarn over" style, so they were small. I like the crayon buttons. They slip in easy, but, on the other hand…they stay shut, too!
Have the hat in progress. I have one yellow pencil button leftover, so I think I will sew it to the top of the little stocking hat…kinda where you would put a pom-pom. If it looks ridiculous on top…I might attach it to the fold-up brim. It that looks ridiculous, I will have a loose button on my hands. :pout: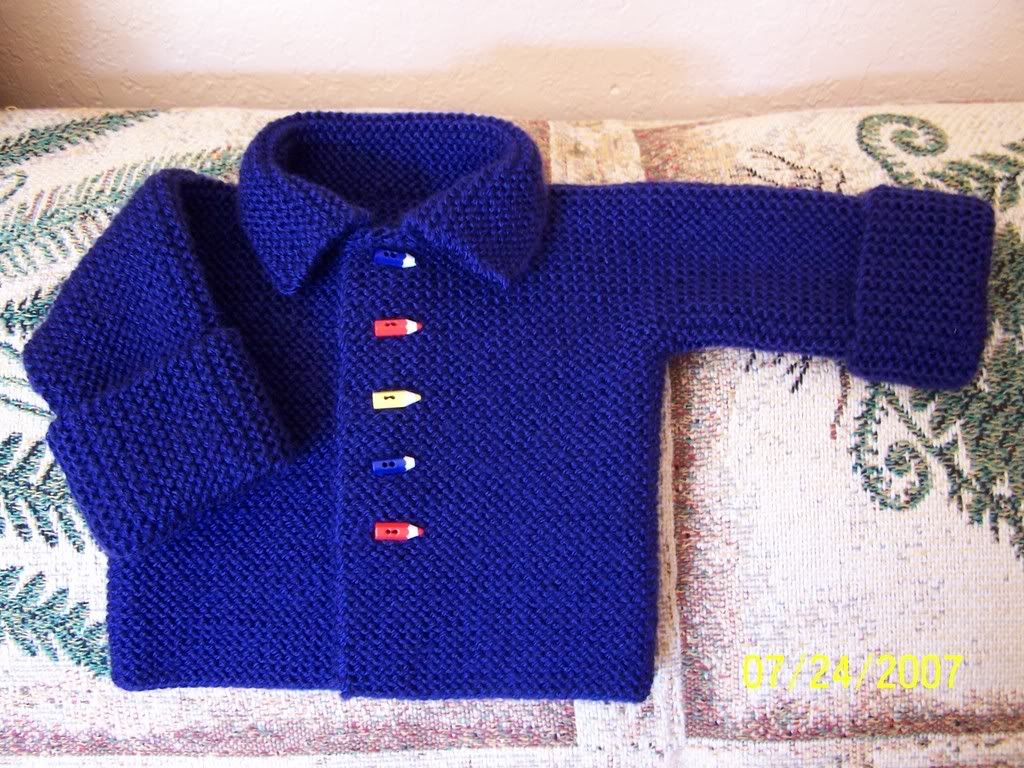 The pattern for this little sweater had lots of problems to work through. The neck turned out the size of an orange…and the sleeve pattern directions said to make them 4" in length! Ach! The sweater is 8" long. Four inch sleeves looked way too short…like a short sleeved garment. So I continued along and made them 6". The pattern photos showed all three versions as "long sleeved" pullovers. I had to leave the neck and 1/2 the shoulder open and fashioned two crocheted button loops. It looks ok.