I finished this one in beige about a week agoo. As I have no experience with knitting in multiple colours, I figured I needed to do that as an exercise. It worked out wonderfully and gave met the confidence to make one "for real". Here's the result: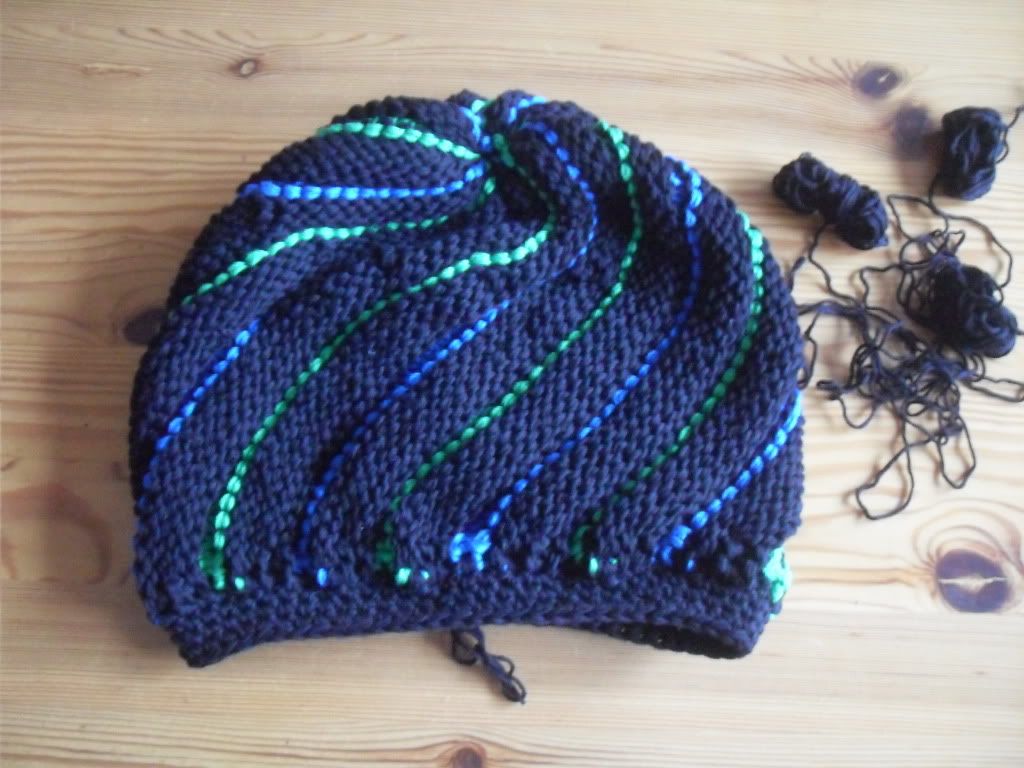 The colours almost disappear, don't they? Here's the inside - I wish I could wear it both ways
Right now that's a bit difficult, as all the yarn is fastened on the WS and this shows (a bit). Especially the top.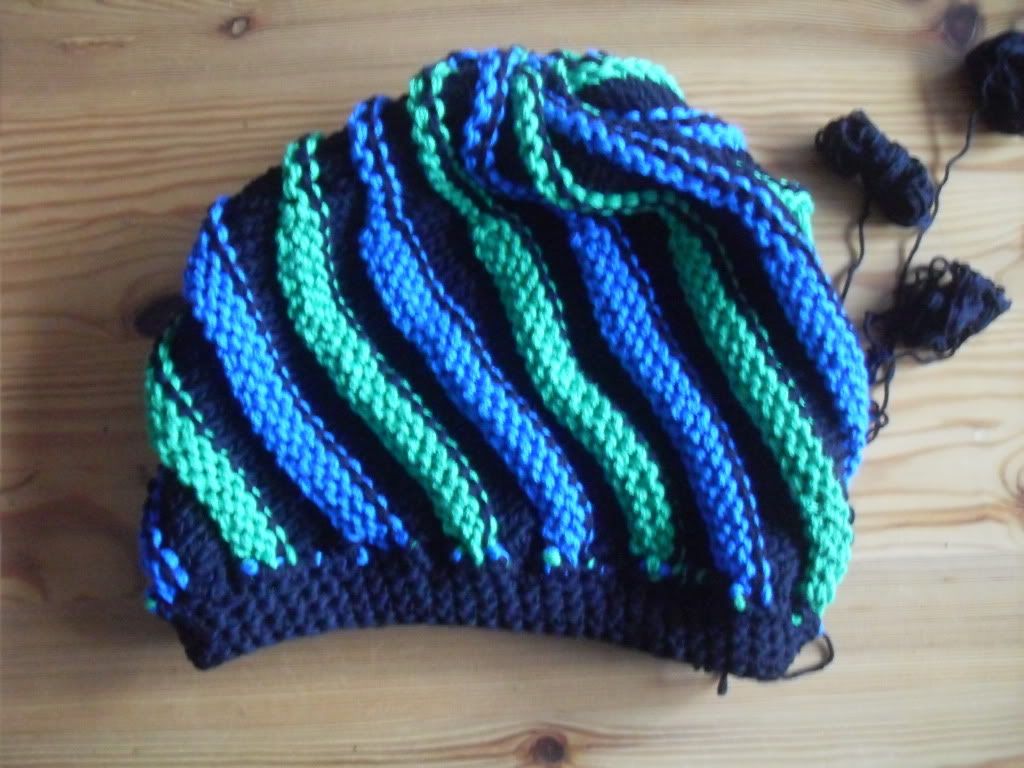 In hindsight, it might have been better not to let the green and blue yarn "run" along the edge of the knitting. What I mean is this: if I had just fastened off the yarn for every coloured stripe (only leaving the black yarn intact), it would not show so well on the edge between the knitting and the crocheting: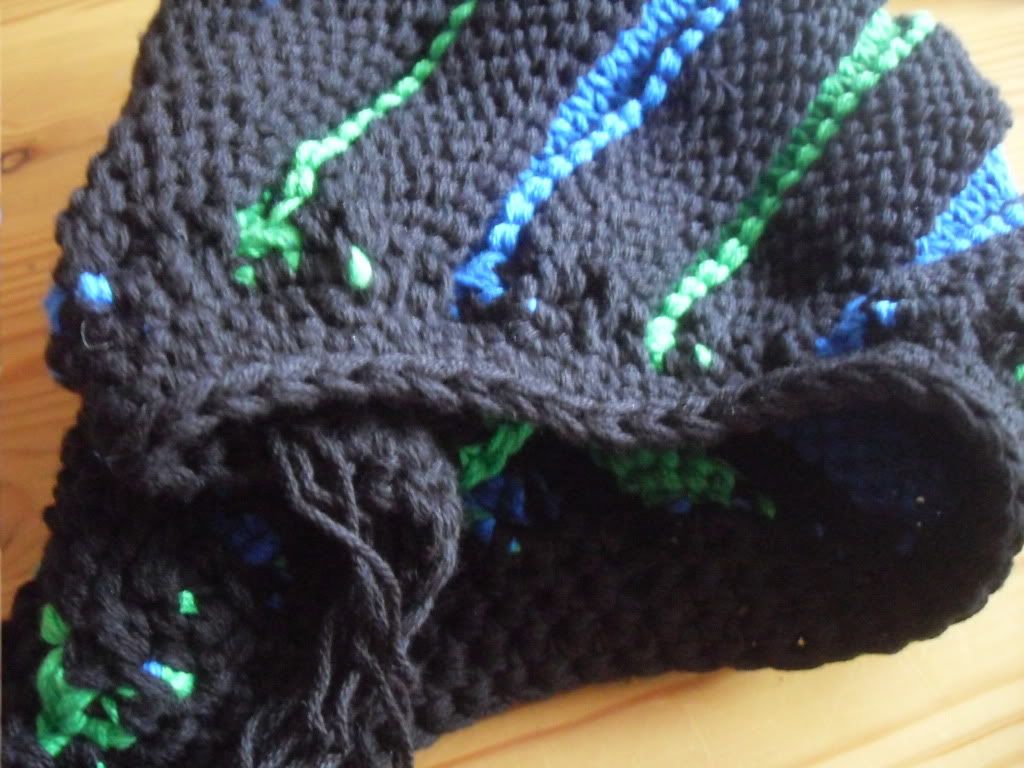 Do you see the green (and sometimes blue) shine through in the black stripes? That would have been gone… But I would have had to use more coloured yarn that way.


Maybe I should go along the edge with some black yarn and touch up the colours… I don't have that much black left though :think: I will just leave it like this and wear it and if it still bugs me in a month I'll get some more black yarn and change it
I was actually quite proud of myself for knitting while keeping all the coloured yarn bolls in place. I had 3 black bolls of yarn, and 2 green and 2 blue. From one of the coloured bolls I would use both ends, so I could knit with 3 threads. However, this ended into a big knot after I had knitted a few rows, so for the first few stripes I think I spend more time undoing knots than knitting :roflhard:. After a while I made up a system, where I laid out the yarn I expected to need first (no knots) and then went along and knit the stripes: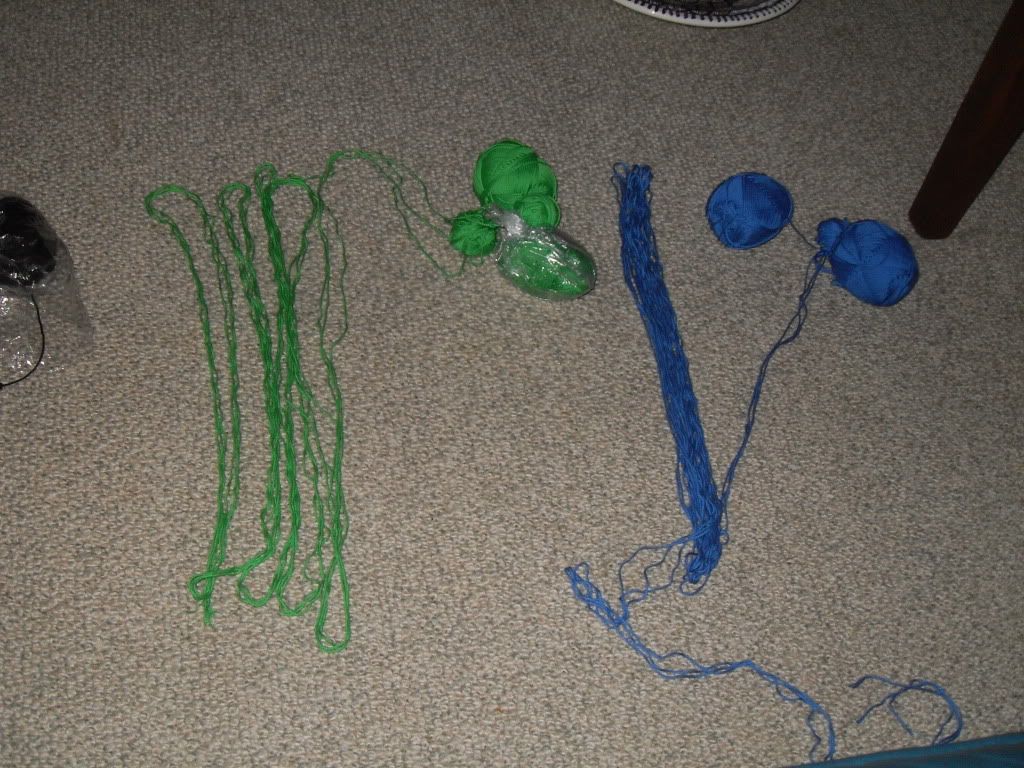 That worked out quite well :mrgreen: I am quite pleased with that solution
As for going from the 70cm knit to the 54cm crochet - again, it worked like a charm with "just do something". On my first way round I crocheted in every edge stitch. This made the baret a bit wide, but in the second row I skipped every 10th stitch (crocheting in the next one) and this way it became a neat fit for my head.
If it hadn't, I might have done the same thing again - or if it became to narrow I would have redone that row but then every 15th stitch or something.
I think this way is quite sufficient to make the baret a good fit. I am not even sure whether it is 54 cm now, but it is my size and that is exactly the point :cheering:
This baret is quite a bit heavier than the beige one. Not sure why… I am also not sure which one I like better, as the beige one hides its mistakes quite well because it is all in the same colour
Somehow it seems like the knitted stripes are bigger on that one too
Must be my imagination.
Going for the gloves next - one green and one blue. Maybe I'll make the thumbs in the opposite colour. It will be a challenge though, for I have never made mittens - let alone gloves!