Made with Flydyed Crimson :gah: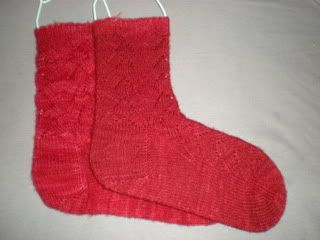 Pretty! I love that color!
I think they look very pretty! :happydance:
Great socks ans I love the colour x
Wow RED!!! Ohhhhhhh I just love those socks. I might have to go and get some crimson now and make those socks myself. I have the pattern, but I have not yet been brave enough to try it. Thanks for the inspiration and the wonderful picture. They are beautiful socks!
Wow, you're sure busy with those monkey socks! Amazing. :cheering:
They look great, Rachel. Is that the yarn that ran so bad? Just remember not to wash them with your 'unmentionables'.
I'm
with the color.
I love that red!
Good job! I'm working on the Monkey socks too (but a toe-up version). I really like that pattern!
They look great!
Pretty, pretty!
I'm working on my own pair of monkey socks as well! Great job!