I started knitting the scarf in July of 2009, and maternity leave finally gave me the chance to finish it. I converted the pattern to the round and made up a hat to match.
The pattern in question is the Princess Lace Wrap (linked to ravelery, the actual pattern is here as a PDF!!!)
I'm not a wrap person but I LOVE scarves so I just cast on 31 stitches with 2 stitch garter border on either side.
For the hat I cast on 120 stiches and did 2x2 ribbing then I increased by 3 stitches to accommodate the lace pattern. I did the decreases on what would have been the purl rows and as the decreases made each repeat impossible to follow the written pattern I just knit visually instead, so the lace goes all through the hat.
When the decreases were done on every round I abandoned the pattern all together and did YO's with each decrease to give a lacy spiral effect at the top. It turned out really well which amazes me, as I had no actual pattern to follow for the hat. Just the lace pattern. I guess it shows how far I have come in my knitting.
The hat is maybe an inch too loose, and did not shrink at all in the wash like I hoped but it's not a big deal.
I used Knit Picks Shine Sport in "River" this was yarn I got for my birthday in 2007! Finally used it up. I have just enough left over to make mittens.
For some reason I was SO anxious to block the scarf and have it done (even though it's August and I have PLENTY of time for fall) that I just HAD to go and block this thing… Blocking a scarf on the floor when you're in your 9th month of pregnancy is… really interesting to say the least. I don't know what I was thinking. Blocking is uncomfortable enough when I am NOT pregnant. My back was so not impressed.
Now for pics!
Blocking the scarf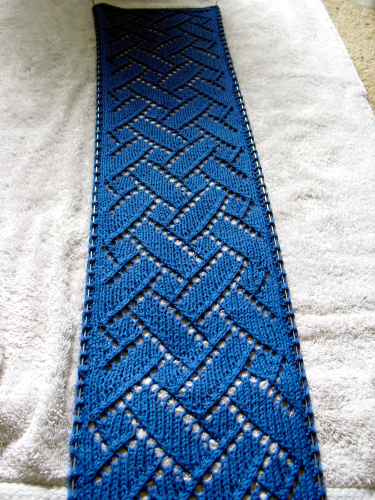 My little helper, Pretty.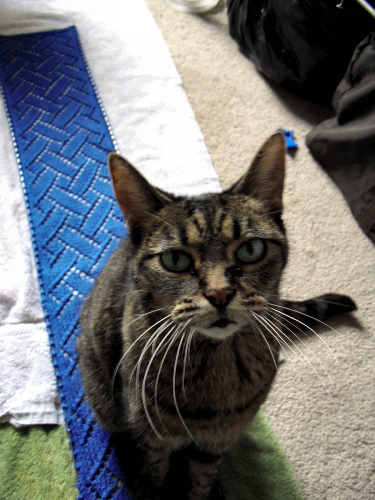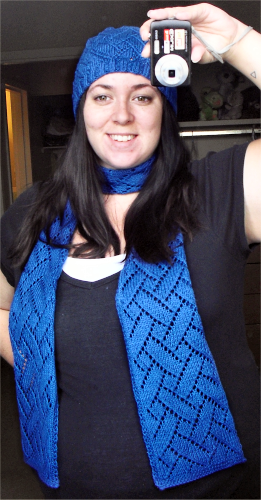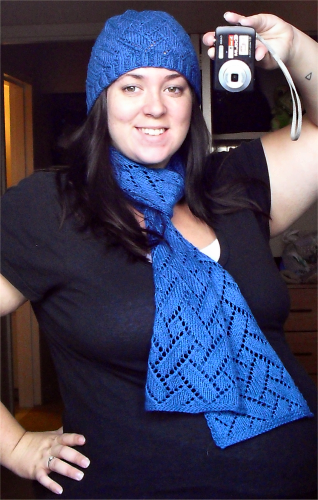 Close up of the hat