As usual, your work is just gorgeous!
Oh gosh amazing!
You make such pretty things
That is amazingly beautiful! I fear I wouldn't have handled such a yarn issue as well as you. I would have thrown a tantrum… I just KNOW it. LOL.
WTG!
You just never know with yarn colors. Once I did a sweater with two completely different lots of Debbie Bliss Alpaca Silk. Now if there was a yarn where dyelot would be critical, you would think this would be it. I was striping at first, but then gave up and you cannot tell the difference anywhere on the sweater. Crazy.
Artlady…
I have been looking at this website several times a day , waiting for you to return from the wilderness… I just knew you would be posting pics of the IHS in Malabrigo…I can't believe you finished it!!! It is sooo GORGEOUS!!! I intend on making one soon with the Milabrago yarn I got from the K2P2 sale, but I think the colors I got may be too dark…(purple mystery, and a dark red… I wish I had a lighter color…I have had a reversible cable scarf OTN for over a year now because I must really pay attention to every row… I think I could memorize the IHS pattern which would mean I could work on it more…Thanks for sharing all your pics and tips…
you are truly an inspiration…knitters are the nicest people!
Hi'ya Pat! :waving:
Thanks for your kind words! Much appreciated!
I think your dark red yarn could make a beautiful IHS!
Here is the reason: the pattern design of the IHS is a BOLD cable pattern. I believe it would show up nicely on the field of red!
Yes, this pattern was so easy to memorize. Right cross cables on every 8th row. No need to count rows on a clicker…you can just tell when a row 8 is presenting itself! And the back of the scarf is a 'resting row'. Easy peasy!
Below is a photo of my BORGHILD for the August Challenge! See how the cables do stand out on the field of dark chocolate? Maybe more subtle than if on a field of white or cream, but they stand out fine!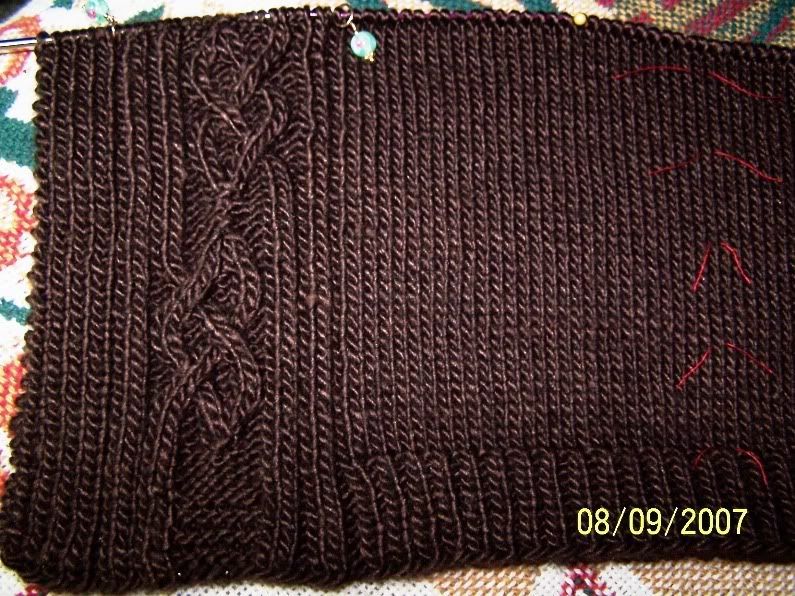 Hi'ya bip! :waving: That was fortunate for you! I know many yarns have perfect color consistency!
In Feb/Mar I knit an aran afghan using a warm red ROWAN "Polar". I had 2 knit up two full skeins and stopped to take a photo of my progress (to post here at KH)…OH OH :doh: My camera showed me that the two skeins were different! (and THEN I could see the difference, too! One skein was a more heathered red, the other had no heathering so it looked redder) I had to frog the entire thing back! I had forgotten that I had purchased two diff dyelots. It had been in my Stash for a long time. :doh: Fortunately for me…I had enough of one dyelot to make my afgan. Still haven't decided what to do with the other skeins!!!
love the colour looks really good x
That cable looks beautiful… I will definately try the IHS on my dark red malabrigo… I'll let you know how it works out.
Thanks again!
Pat
:thud: :passedout: :thud:
your BORGHILD is looking amazing!

okay, i know you've already posted this, but exactly what yarn are you using for it? i absolutely have to get all her books so i can make me an afghan with that yarn using an assortment of her cables. can you tell i just love cables? :teehee:
Hi'ya Lady Violet! :waving:
I am using Louisa Harding's "Grace" for my BORGHILD cabled cardigan. Color#9 "Chocolate".
The pattern is an Elsebeth Lavold design. I didn't use her signature yarn. No reason really. I had the Louisa Harding yarn in my Stash…and the gauge works…and I like the pattern with the yarn itself and the color!
Here is a link to a WEBS yarn page that sells "Grace" for a reasonable price!
http://yarn.com/webs/0/0/0/0-1001-1294-1323/0/1043/3287/?gclid=CO6Vpv_eiI4CFRcIYgodU3u7Dg
As usual ArtLady your work is fabulous. The amount of time and effort you took shows how loving you are and dedicated to your craft.
I have malabrigo that I'm planning on using for an IHS as well and did not think about the diffrences until you mentioned it. So, if you don't mind explaining how would you knit with two different skeins at once? I'm obviously new at this so unless it involves tying it to the last strand I'm lost.
Hi KT! :waving:
A lot of folks "carry the 'resting' yarn up" on the edges when knitting stripes, etc. However, this creates a messy look…which is ok for garments that will be seamed eventually.
The IHS edges must stay "clean" looking…so…I made my yarn transition at the 4th stitch from the edge.
Here is how the WS transition rows play out:
Knit the first 3 stitches with Skein [COLOR=blue]A[/COLOR]…drop [COLOR=blue]A[/COLOR], pick up [COLOR=red]B[/COLOR]…and knit the rest of the row with [COLOR=red]B[/COLOR]
Knit the next row (RS) with [COLOR=red]B.[/COLOR]
Then, the next row is another transition row that plays out like this:
Knit the first 3 stitches with Skein [COLOR=red]B[/COLOR], drop[COLOR=red] B[/COLOR], pick up [COLOR=blue]A[/COLOR]…and knit the rest of the row with [COLOR=blue]A[/COLOR]
Knit the next row with [COLOR=blue]A.[/COLOR]
And so forth.
Rows 1,2,5,6: Skein A
Rows 3,4,7,8: Skein B
But, we know that the transition rows are knit with the two skeins: first 3 st with one…remaining st with the other skein.
FYI: put a stitch marker at stitch 5 to remind you to "wrap" A and B so that a hole is not created. To learn this wrap technique, take a look at the directions for intarsia color knitting. With intarsia or colorblock work, whenever you move to another color on the row for colorblock, you need to lay one color across the path of the other, knit as usual…the color that laid across the path of the other gets "tagged into" the knitting, preventing a hole.
With my IHS, I was careful to "tag in" the lame skein on the rs and the ws…whenever I came to the transition location, I performed this "tag".
When knitting with two skeins this way…I was careful to keep the working yarn on my right side, and the resting skein was on my left. After the transition, they changed places.
It does take more time at first, but after a few repeats, you get a rhythm going…and it is faster.
My pencil is showing the 4th stitch, which on the wrong side is the stitch that will be knit using the yarn whose turn it is to be "at work". BTW: that little 'tail' hanging out at about row 2 from cast on is Skein B being put into play the first time. Later on I just wove it in to hide it. I did not tie any knots.

Skein A on the left is the 31" scarf that was a dud. I didn't rewind it. I just pulled a few rows out as they were needed.

HI AGAIN, KT! :waving:
I found Amy's video clip in the KH knitting help.
Click [COLOR=blue]HERE[/COLOR] to view her "Intarsia" video clip. Scroll down to "how to knit with 2 colors: Intarsia."
She shows how to cross over the two yarns…in her video, she is using two colors…on our Irish Hiking Scarf, we are using two shades of the same color, in essence, two colors as well. The same priniciples apply.
She shows the method about 2 minutes into the 10 minute video…so you won't have to watch the entire thing to see what I was directing you to see.
It is really easy!
thanks for the yarn link, ArtLady. you're such an enabler, and i don't even have a job yet! :roflhard: after spending who knows how long :drool:, my list has now grown considerably. the good thing is, i have plans for all the yarn i want. (IS that a good thing?
)
i have officially declared myself you're #1 fan. whenever i look at something you've done, be it 3 rows or a FO, my jaw hits the floor. i aspire to have talents that are as widespread as yours someday.
Hi'ya Lady Violet! :waving:
Thank you for the great big HUG! No matter who we are or where we live, a great big HUG feels so good!
I had a chuckle when I read your signature "math"! Yeah, I guess that would be double for me, too! :teehee:
Thanks again!
Hugs,
Dollyce aka the ArtLady