My first "real" project! Thank you all SO much for your help!!! Now on to my fitted knits book lol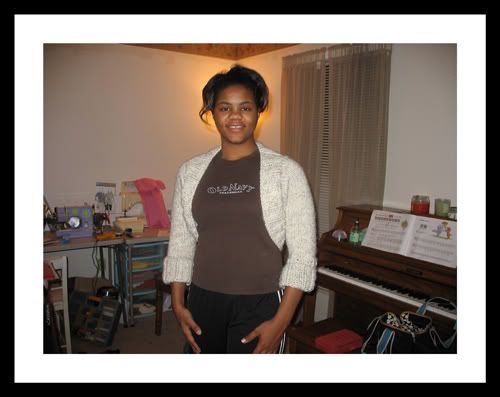 Adrienne, that's beautiful!! Good job!
Carey
Thank you!!! I learned SO much with this pattern!! But it will be a LONG time before I want to do another shrug lol
YAY, it turned out great! :cheering:
I
it! It looks great on you, good job!
Thanks! Im SOOOOO happy about it! LOL, even if it is 81 degrees here and I can NOT wear it lol
Awww, thanks!!! I can not begin to tell you the JOY I felt when I took that LAST stitch off lol
oh, that's darling!! Soooo cute on you! Great job!
Now, go get started on those other projects, we want to see those, too!!
LOL!!!
---
Oh NOOOO worries! I am going to do the perfect turtleneck from the Fitted Knits book. Im about to start working on my guage RIGHT now lol
A perfect fit!! Good job!
I have the Fitted Knits book too! Would love to know what you're going to make in there - I can't decide!
I love it
I know how much you struggled with it so it's all the more super!
Thank you and BOY did I struggle lol. I also just bought Green Gable. I feel like I can do ANYTHING after this shrug. LOL
Very cool. Looks nice on you.
Wow!! Absolutely lovely! :cheering:
wish i could make something as nice
:??
It looks great!
I just bought "Fitted Knits" yesterday. There are so many things I want to make. Decisions, decisions…
Looks fantastic! Congratulations! :happydance: