First off… HI! First post yay
Also this is only my second ever project. My first was another scarf which I completed around December time. That was just garter stitch I recall.
This was started around middle of February. When I started knitting I knew I wanted to knit a Gryffindor scarf so it was only a matter of finding a good pattern. I used the one up at Atypically. It's my first use of circulars and of changing colours. It's with Plymouth Encore Worsted, Cranberry 175 and Butternut 1014 on 16" US8 circulars. This is about half way through, 9 or so stripes. I've done another two stripes since then. It curled at the ends as you can see, but when I close it and add fringing that'll fix it.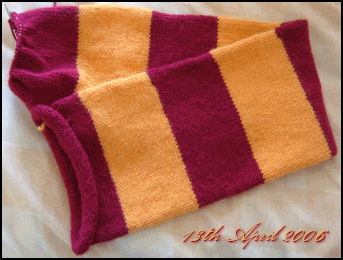 My brother already has an order in for one in Ravenclaw (film). Now I just have to find the right yarn for him (130&157). It's hard to find them, being from the U.K. The yarn for this scarf was ordered from Patternworks.com and including shipping cost around £20. It'm having a hard time tracking down the 130 silver. It's called oyster by some, or English Silver by others. Anyone know where I can get it cheap, that will ship to the U.K?
Finished!