This hat is just so cute, I love it!! (Hated sewing the sides up though.
) Here is the pattern.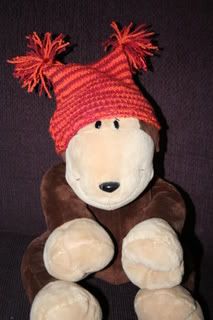 Cute! I don't see why you couldn't do it in the round though. Couldn't you just knit to the point you feel it's tall enough, then do either a 3 needle bind off or kitchener the top and then add tassels… :think:
There was one on ravelry done in the round and it seemed like the top was stiffer, the corners were less pointy…which I think really make the hat cuter. I might try it in the round though since it is so quick just to see.
it's so cute! I might have to make one!
Jen:knitting:
Darling hat! Thanks for taking time to share your work, and thanks for the link, too!!
Cute hat! You did a good job on it too. I love fun hats. The tassels look like fireworks going off. That will look so cute on a little kid.
Cute hat!