I was inspired by Bip's Brain Slug Baby Hat [SIZE=1](Her hat was inspired by Bluenail's on Ravelery)[/SIZE] and thought it was PERFECT for my crazy friend from college. Her baby girl Gillian is due in February, and she is weird and crazy. She loves Futurama, Aliens, anything strange and punk. So I have been excited to knit her some unorthodox baby items.
This is the first. I wish, wish, wish she lived nearby so I could see her face when she sees it…But I will have to mail it to her with the other items when I finish them.
I plan to make 2-3 more of these hats so the kid will have one for each stage of babyhood.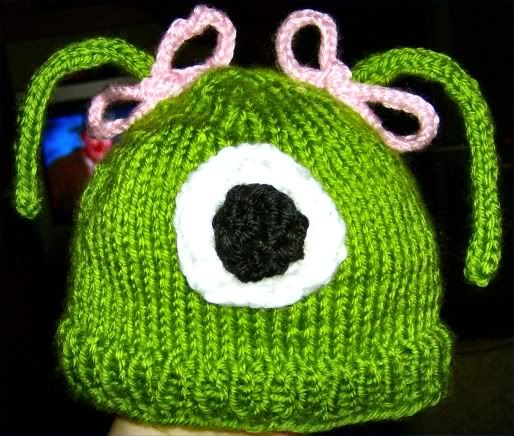 I used Red Heart Soft in green, white, black and pink. I did 4 stitch I-cords for the antenna, and 2 stitch icords for the bow.
I loosely followed this hat pattern (PDF!) I did the ribbed brim, and did only stockinette for the main hat. I kinda screwed up the decreases tho because I didn't have the purl stitch in there, and didn't realize it till I was done, but it actually worked out fine. I decreased to 24 stitches and then sewed up the top.
I used KnitPicks Options, US7, on 24 inch circs, and I used Magic loop which was AWESOME. I switched to DPNS when the decrease got too small for my short cable, and I didn't feel like digging out the long one.
The eye I cast on 10 stitches, and did 2 rows of stockinette then 2 short rows, and repeated till it looked a good size. I then threaded the yarn through the corners pulling them down to round it out more. I did the same thing for the pupil, except I cast on 6 (i think…)
I want to add something to the antennas to make them stick up but I am not sure what. I worry a piece of wire will poke through the hat and poke lil Gillian's head…
I added the bow to help make it more obvious that it is a little girl. lol. 2nd bow added.
edit— Baby Gillian was born
her momma just sent me this pic.
Her name is Gillian Isobel Vera L. and she is sooo sweet. I can't wait to meet her in person, hopefully soon sometime this year.