I finally ventured away from my numerous garter stitch scarves!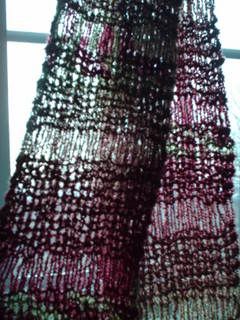 I just love the dropped stitches look. Fantastic!
The yarn and the stich go perfectly together. It looks great! :cheering:
I agree! It almost looks…woven! Great choices!
---
Verrrry beauuuutiful!!! :notworthy:
Oooohhh…pretty! I love how the light comes through, great choice of yarn!
Hi,
I really like your scarf, its beautiful. I have to ask though, when you were knitting it did each edge look the same? I've been trying to do an elongated stitch scarf and one edge is the elongated stitch and the other looks kind of like chains. Did yours do that too? Thanks.
Aleksandra
That is a very nice look!
Very nice work!
I love the drop stitch! I tried it once, for a summer top…and ended up scrapping it. Made eyelets instead.
Drop stitch is trickier than it looks! You did a wonderful job!!
Thanks for sharing!
Beautiful! This is one of my favorite stitches!
:happydance: very pretty!