My brother has been bothering me to make him a hat forever. I finally finished! Here it is!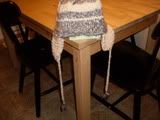 Congrats! Looks great
Very cute! Lucky brother.
Nice hat!
:cheering: :cheering: :cheering:
Judy
That's a great hat, but the photo is way too large. Please click the link in my signature to see appropriate sizes and why. Thanks!
Came out great
Looks super toasty warm!
Great job! It turned out great!
Sorry about that. It didn't work when I tried to resize it. And thanks everybody!
Um…it doesn't have to be [I]THAT[/I] small. :lol: 640x480 is perfect. Next time you'll know.
Beautiful Hat!
Kind of OT but, I'm agree with the Yay for teenage knitters! I started when I was 18, and I'm 22 now.
Very nice! I love earflap hats!
What pattern did you use for this hat? I've been looking for a good earflap hat pattern. You hat looks great! You did an awesome job!:yay:
I actually did the Kims hat pattern in Last Minute Knitted Gifts. They have an earflap variation, but it required picking up stitches, so I just sewed on earflaps!