MY first crochet project!!! It went FAST :oD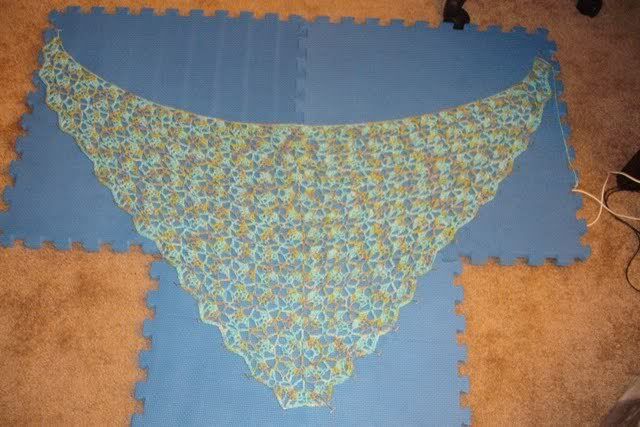 Evan, it looks great.:cheering: What pattern and yarn did you use?
That's gorgeous! And crochet does seem to go faster than knitting sometimes.
That is gorgeous!! Love the spring-y colors!
Thanks!!!
The pattern is the South Bay Shawlette from Lion Brand - it's marked Advanced Intermediate, but since was my first crochet project I'm pretty sure that's incorrect ;o)
The yarn is a hand-spun, hand-dyed rayon I got in my recent swap. I really liked working with it since I'd never used rayon before. It's very soft and smooth and cool to the touch.
Here's a link to the pattern http://www.lionbrand.com/patterns/90489AD.html?r=1
I'm going to try to take some pictures of it in the sun later today or tomorrow to really show off the beach-y/mermaid-y colors!
You did a great job! I really love the colors :cheering:
That's beautiful, Evan!
I have heard that crocheting is faster than knitting but I'm all thumbs with a hook.
That's really pretty, Evan, and I do hope we get enough sun today that you can get your picture.
I find crocheting much faster, but did that for more than thirty years before learning to knit anything recognizable.
Very nice, Evan! The yarn certainly went well with the pattern design! Congrats! Another milestone! Well done!
I'm not great at taking pictures, so there's a shadow across them, but here are some outdoor shots :o)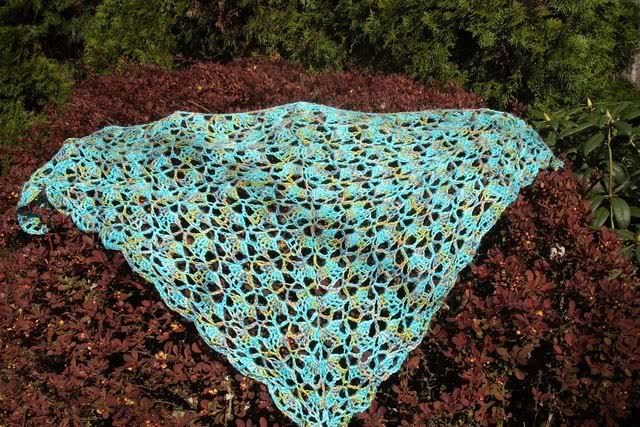 Excellent Evan - you sure have a knack for handiwork!! I agree that crocheting is faster…but I can't really get much beyond the basic sts
This particular shawl only uses chain, double and single crochet. I'm pretty sure if I could do it, anyone could do it :o)
Beautiful work!
:cheering: :cheering: :cheering:
Judy
Love that pattern!! I don't crochet much anymore but love how your shawl came out!! Great job!
What a pretty shawl!