Disco throw is not the official name, it is actually "Shaded Rug" from Woman's Day Granny Squares from the 1970s. My grandma gave me the magazine and though I am a knitter, I fell in love with it and was compelled to learn to crochet. I call it Disco Throw because the picture in the original mag looks like the floor from Saturday Night Fever.
I finished the 169 squares back in Dec/Jan when I had two weeks off of work. At that point, I was so burnt out on crochet, I couldn't bear the thought of putting them together. Once I finally sat down to do it several weeks later, I couldn't really understand the instructions.
Finally, middle of last week I MADE myself do it. The assembly instructions worked just fine, I have no idea why I had so much trouble before.
This is probably my last crochet project EVER, but I am absolutely in love with the FO. The picture really doesn't do justice to the colors
I used mostly Caron Simply Soft though a few colors are Red Heart Soft.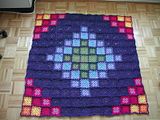 Detail of middle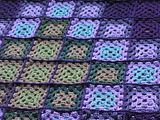 Detail of corner