That's two Christmas presents done :woohoo:
One basketweave scarf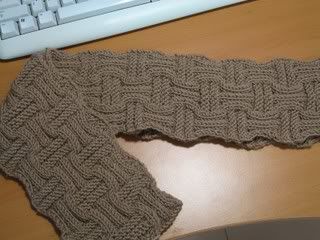 And one hedgie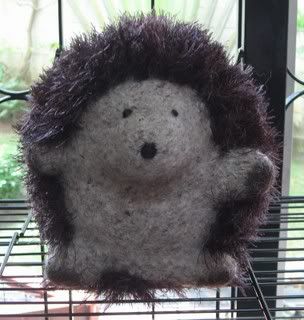 Very cool basketweave scarf!!:yay: That'll make a lovely gift for some lucky person!
And the Hedgie is just plain adorable:woot:
Those are great! I love the scarf. Are you giving the scarf to a male? Because I think it would make a wonderful man's scarf. Good classic color as well. The hedgie is adorable! -Ve
I am IN LOVE with that scarf!! What pattern & yarn did you use? Love the hedgie too. :yay:
Wow! Thanks for your kind words :woot:
Although the wool does look masculine in the photo, it is actually quite girlie in reality! It is Jaeger Extra Fine Merino DK, which I had bought for a jumper for my DH but it wouldn't have been right for a man! So I am knitting a cardie for my Mum with it instead.
The pattern is a Knitting Daily one by Ann Budd which I found in their pattern library. It is really easy to do, even though it looks complicated, so I am thrilled with it, and your comments make me feel even better!!
Thanks guys :cheering:
The scarf is just super and little hedgie is cute as can be.
The hedgie is adorable
! And the scarf is VERY elegant - great pattern:cheering:
I love how the pattern makes the scarf edges a bit wavy. And adorable hedgehog!
The hedgie is adorable and that scarf is fabulous!
looks absolutely great
congrates:yay:
I printed off that pattern for the scarf after seeing yours. Its lovely! I'm going to make mine supper skinny with cashmere… I'm drooling already.
It's a great pattern isn't it?? Mine worked out at only 4" wide, so thinner than the pattern says but I think it suits it. Hope you have fun - I really enjoyed knitting it!!
I printed it off too! That pattern is so darn pretty! :yay:
Wonderful gifts. Both look look great.
The scarf is lovely and the Hedgehog is cute!
Wow, what a beautiful scarf! Thanks for the pattern – yet another one I need to make! Love the little Hedgie, too.
:cheering:Love the scarf and Love the hedgie too! Great job!
You did a great job on the scarf its lovely! Hedgie is very cute!
[B]I Love That Scarf! The basket weave pattern is perfect for my husband.
THANK YOU!!![/B]
I am lovin' that scarf & the hedgie is pretty cool too!
Great job!!
;)jeanette